If you already have an account with Mine Safety Center but you want to buy more training, this guide will walk you through the process of adding a credit card, buying seats, and assigning those seats to users. Contact Mine Safety Center if you have difficulty.
Adding a Credit Card
Login to the training portal. Press My Account button in the upper right corner to open a drop down menu. Select the Payment Information option.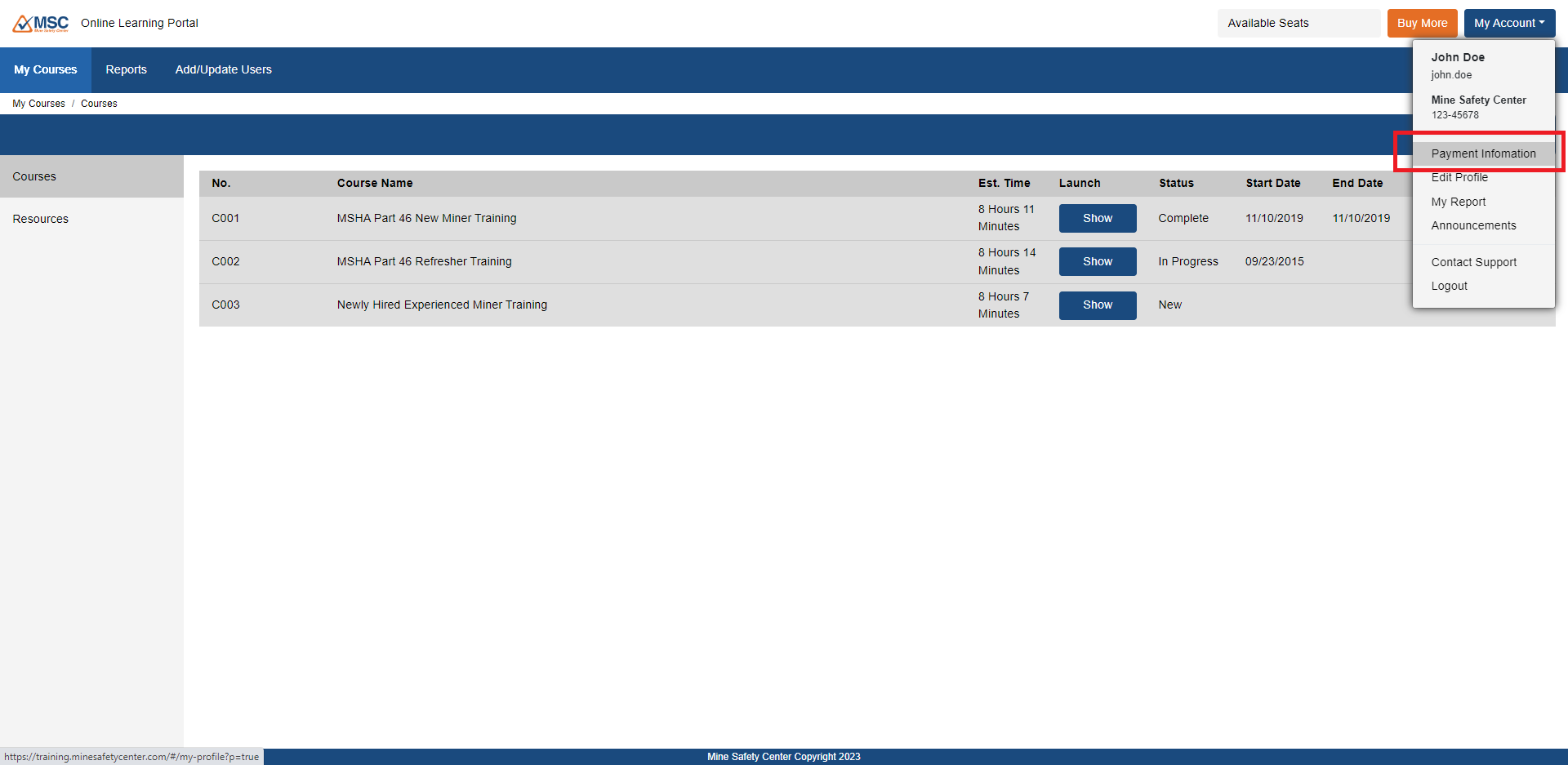 In the Payment Information section on the My Profile page, press the Add Card button on the right side.
In the form, enter the required credit card information and press save.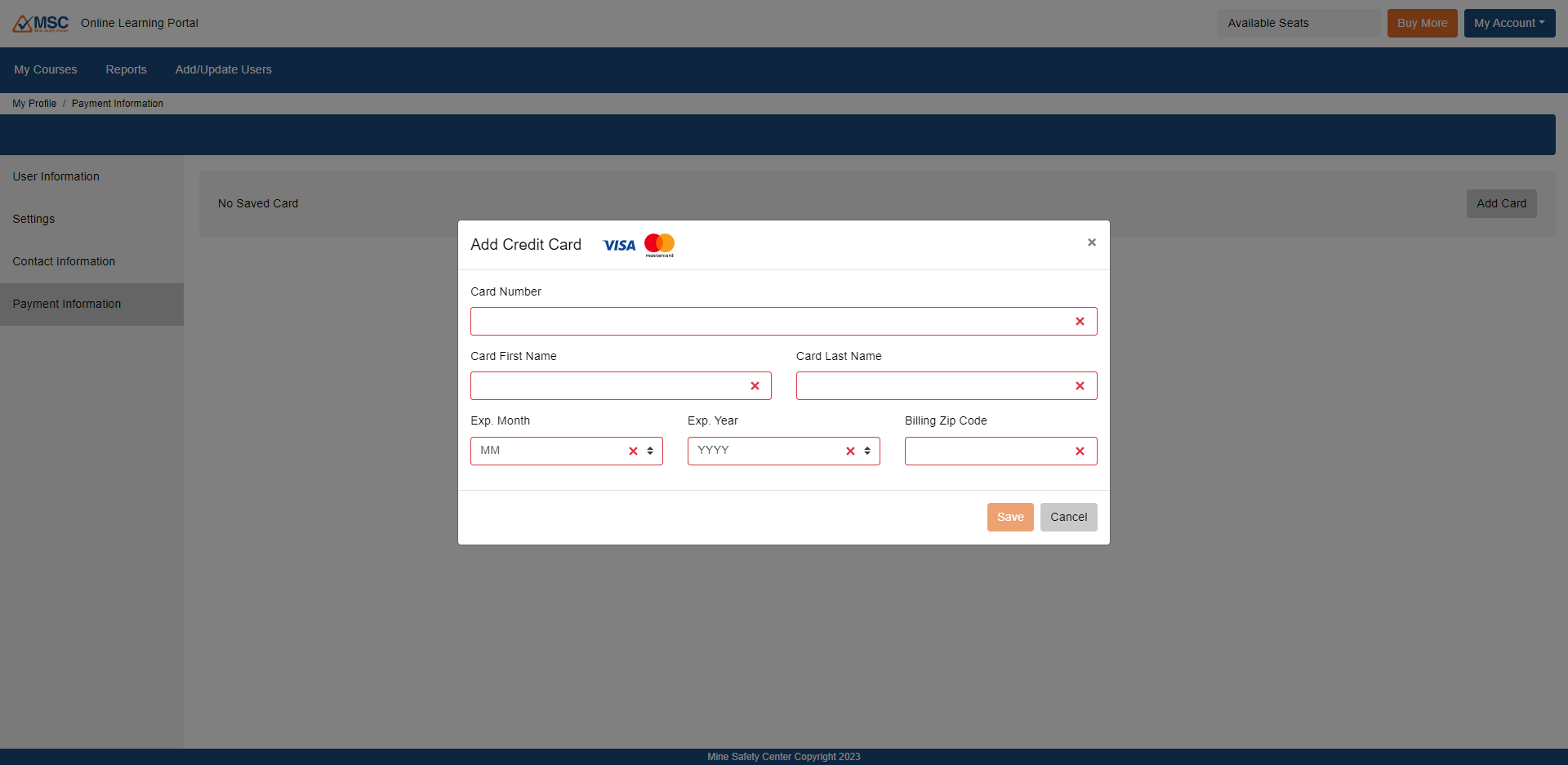 Buying Seats
Press the Buy More button in the upper right corner.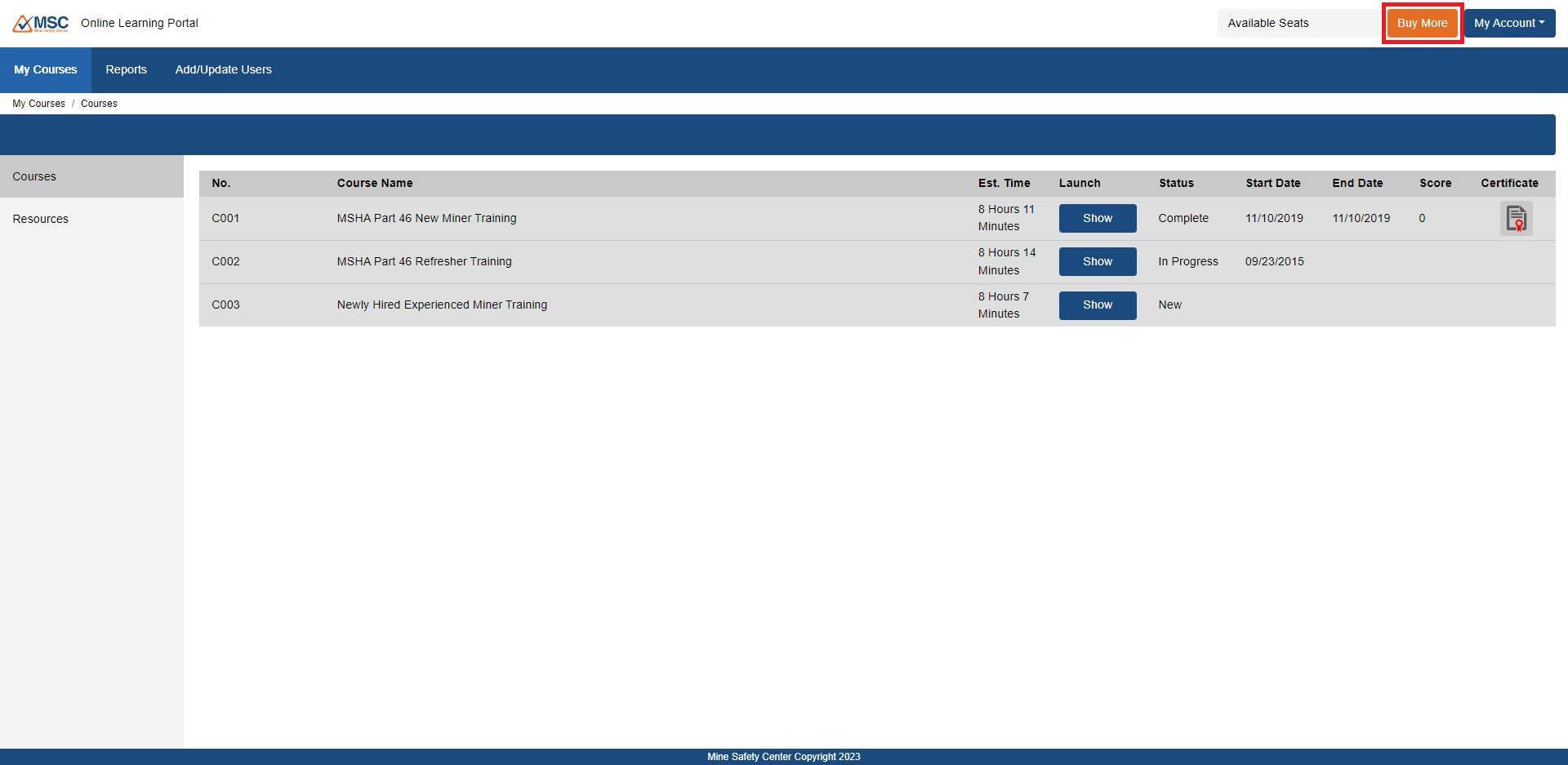 Input the number of seats for each type of training you want to purchase then press the checkout button.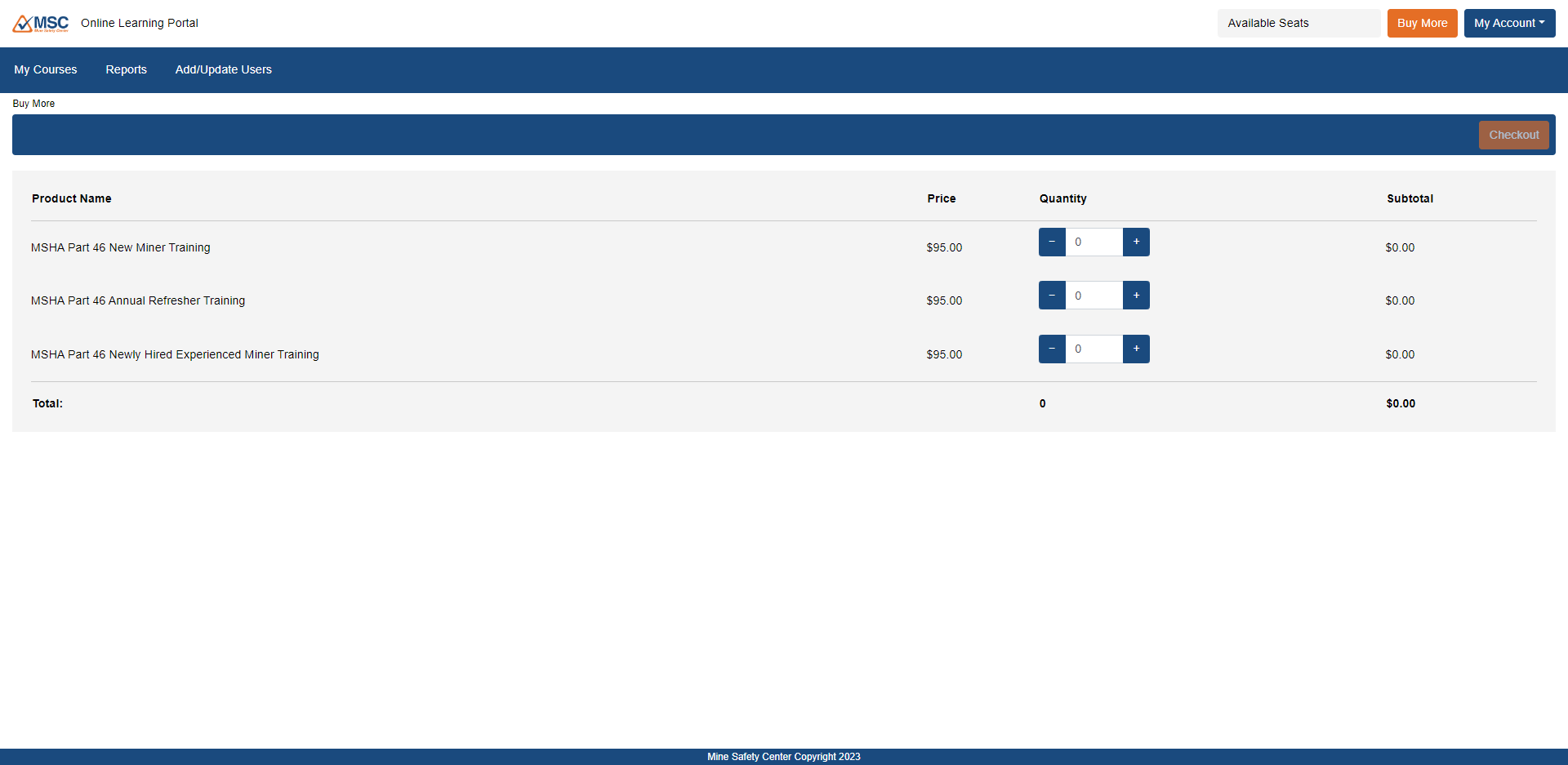 In the pop-up, enter the CVV code for your credit card and press Confirm. An order confirmation screen will display. If you move your mouse over the Availible Seats bar at the top of the page, a detailed count of available seats by product will appear.
Assigning Seats to Users
Navigate to Add / Update Users in the main menu. From here you may create new user profiles or assign seats to existing users.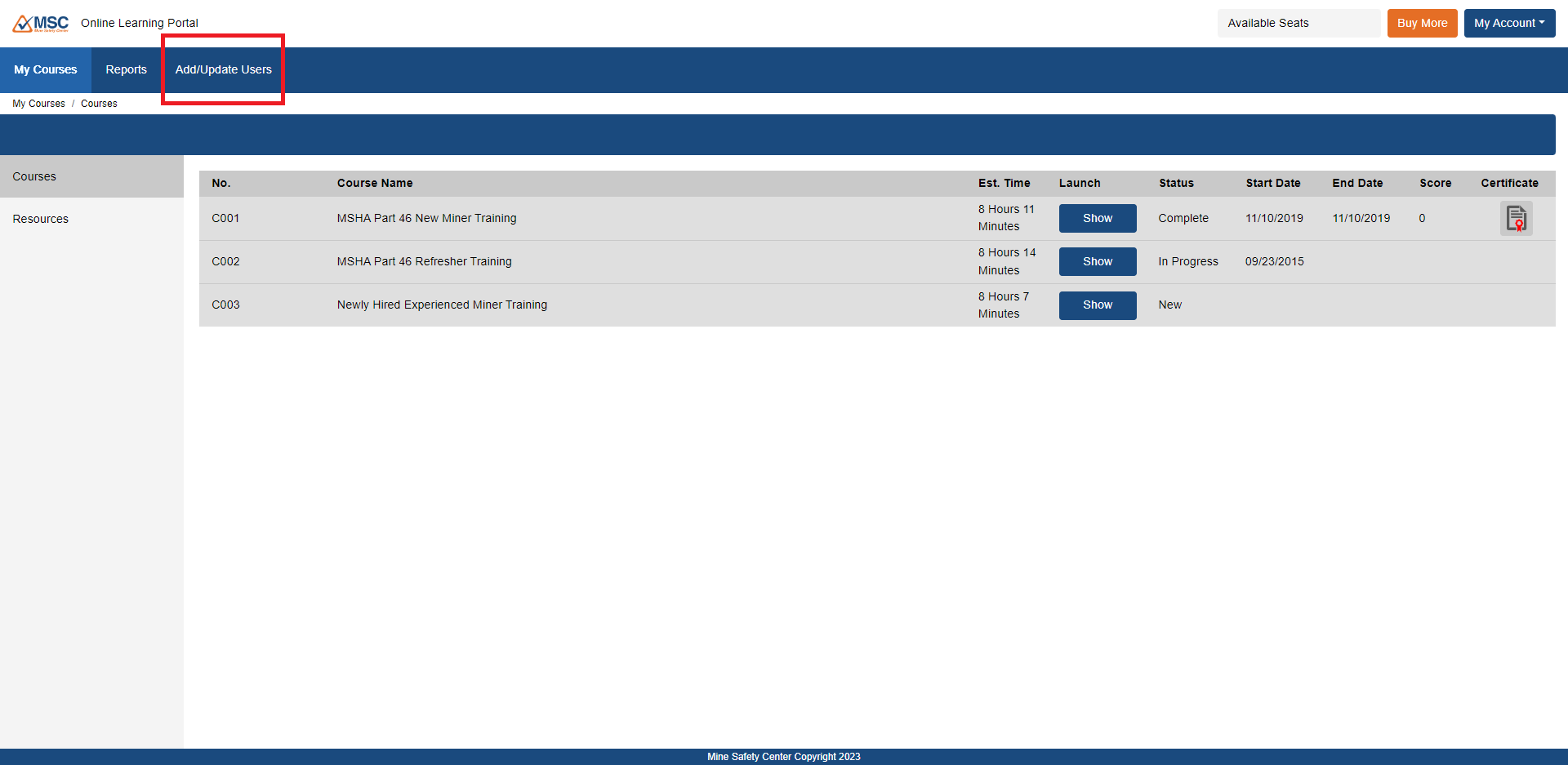 Adding New Users
Press the New User button. On the next screen, enter the following requiring information:
Username
First Name
Middle Name – MSHA regulations require a full first, middle, and last name on training certificates. Failure to include a middle name could result in a fine
Last Name
Trainings
Companies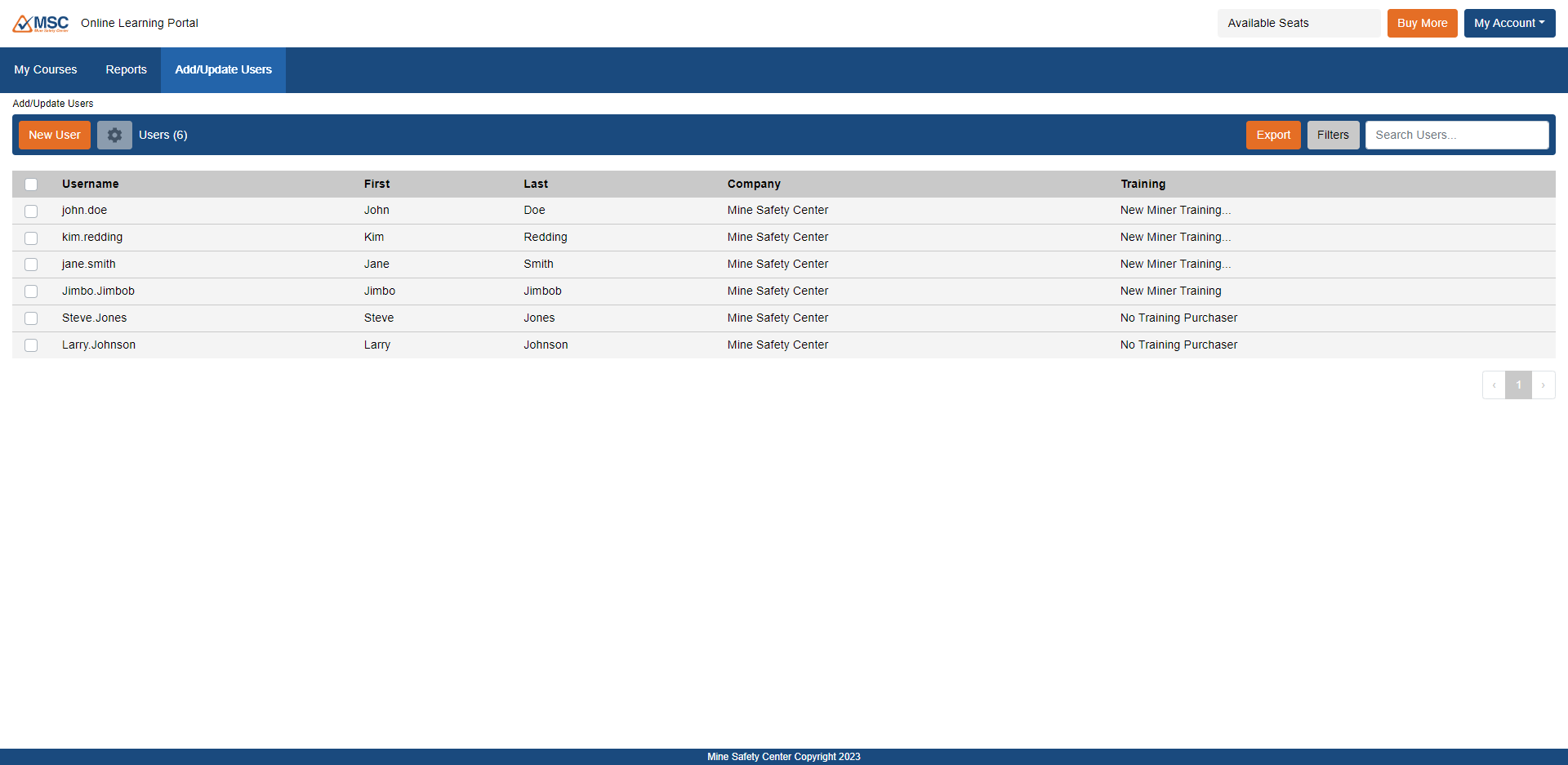 Upon pressing Save, the user will be created and the open seat will be used.
Assign Seats to Existing Users
Locate the desired user in the table and click on their username. You will be taken into their user profile.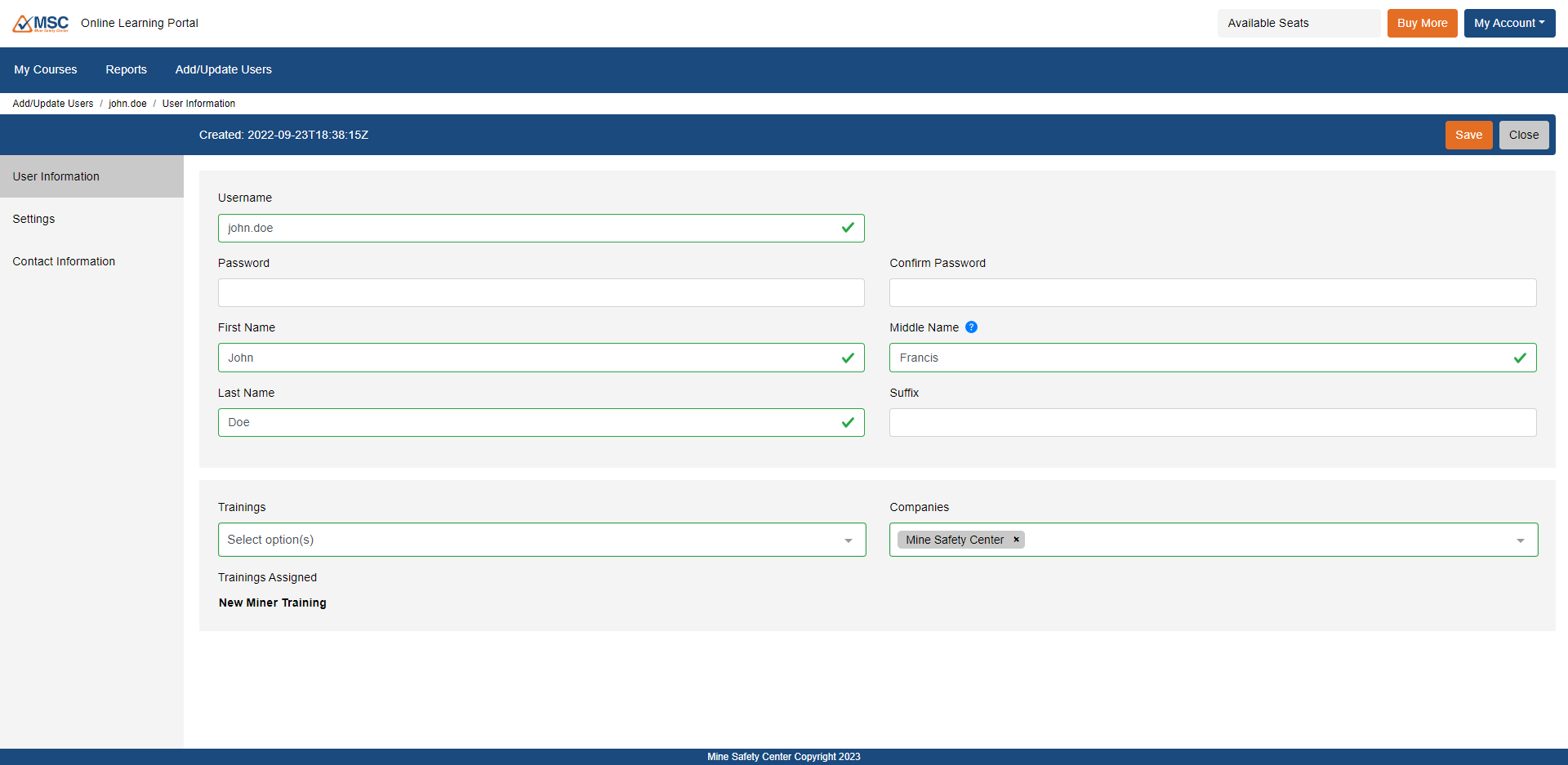 In the Trainings dropdown, choose the training to be assigned to this user. Upon pressing Save, the training will be assigned and the open seat will be used.
Renewing Annual Refresher Training
You may renew Annual Refresher Training for a user under the following conditions:
The user has completed a previous year's Annual Refresher Training
You have one or more un-used seat of Annual Refresher Training
If both conditions are true, a "(Renew)" link will appear beside Annual Refresher Training under Trainings Assigned. Click the link to reset the Annual Refresher Training for the user and to use one open seat.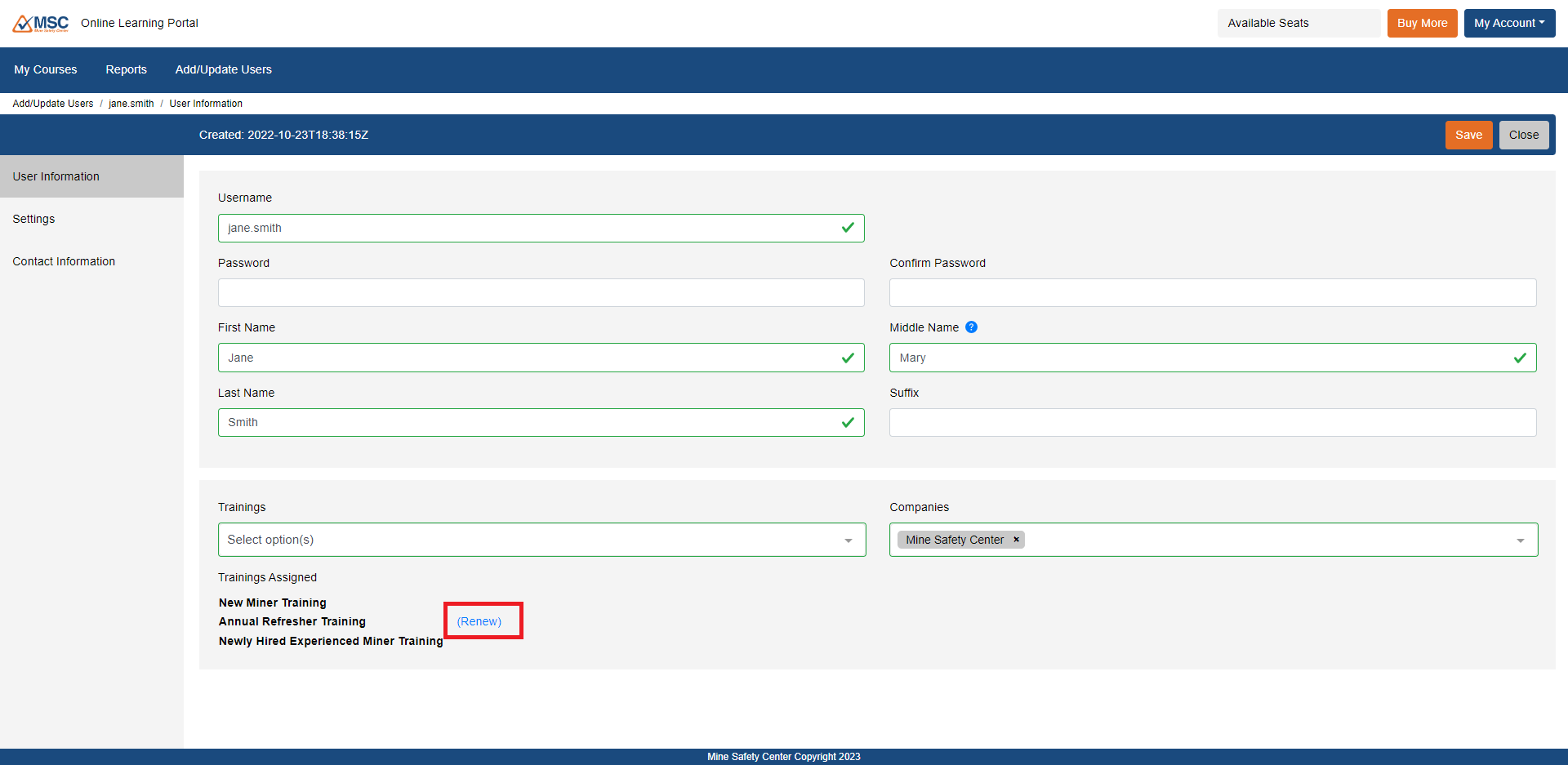 You've signed up for online MSHA training with MSC. Your employees have started their MSHA training but you want see how far along each of them are. But how do you do that? Here are step-by-step instructions for guiding you through the whole process:
Go to the Mine Safety Center Online Learning Portal and log in to your profile.
Navigate to Reports using the main menu. By default, the Student Records sub-section will open.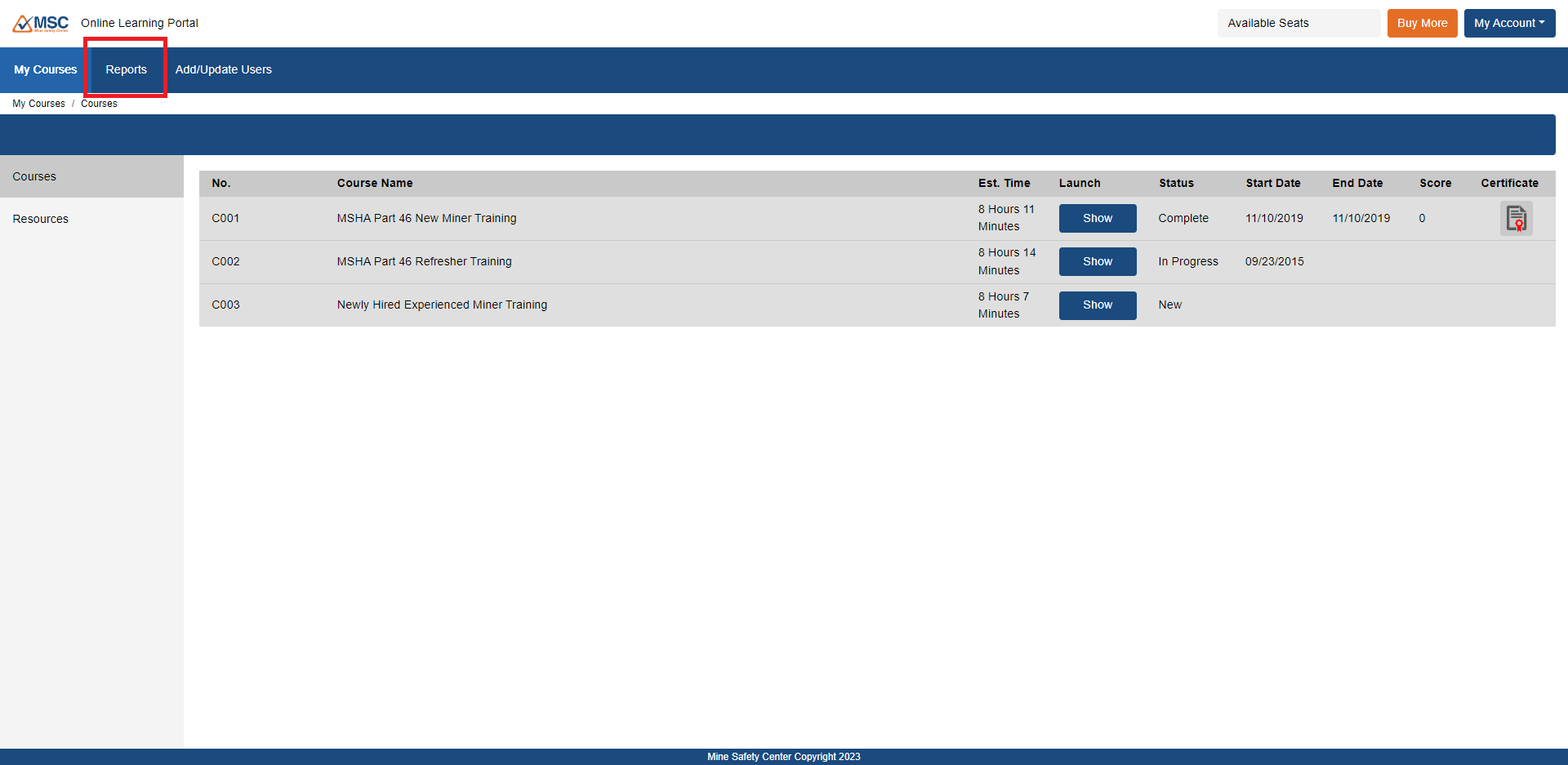 A list of your employees will be displayed. Use the search box, filter options, or page navigation buttons to locate employees. The column labled "# Open" will tell you which employees have courses that have not yet been completed.
For more detailed information about a specific emplyee, click on their username. You will be taken to that employee's individual report.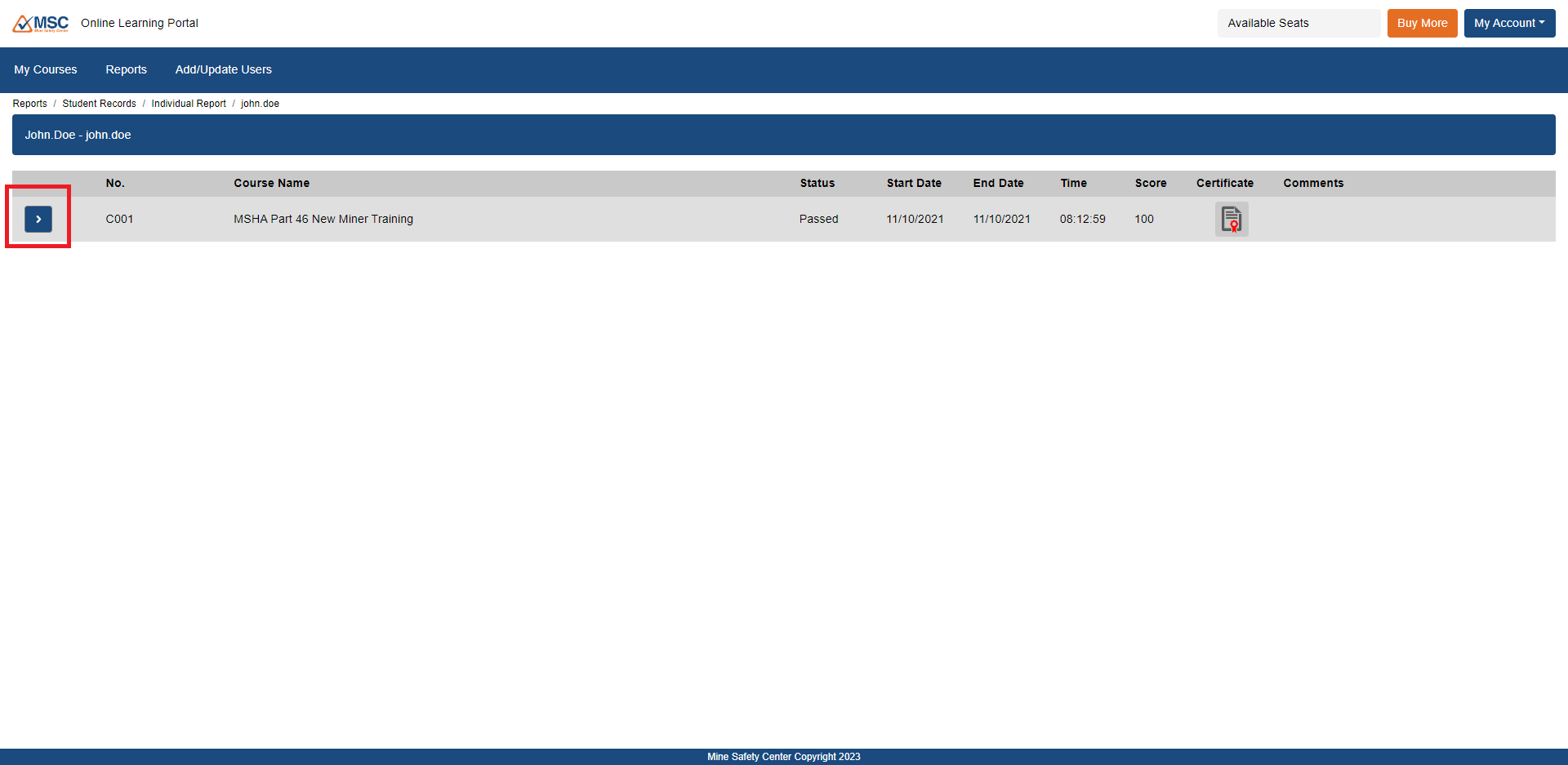 By default, the sub-modules of MSHA trainig are hidden in a collapsed view. To expand, press the arrow button to the left of the training.
The current status of each sub-module will be listed in the status column.
Your employees have finished their MSHA training. As a manager, how do you access and print their MSHA certificates?
Go to the Mine Safety Center Online Learning Portal and log in to your profile.
Navigate to Reports using the main menu. By default, the Student Records sub-section will open.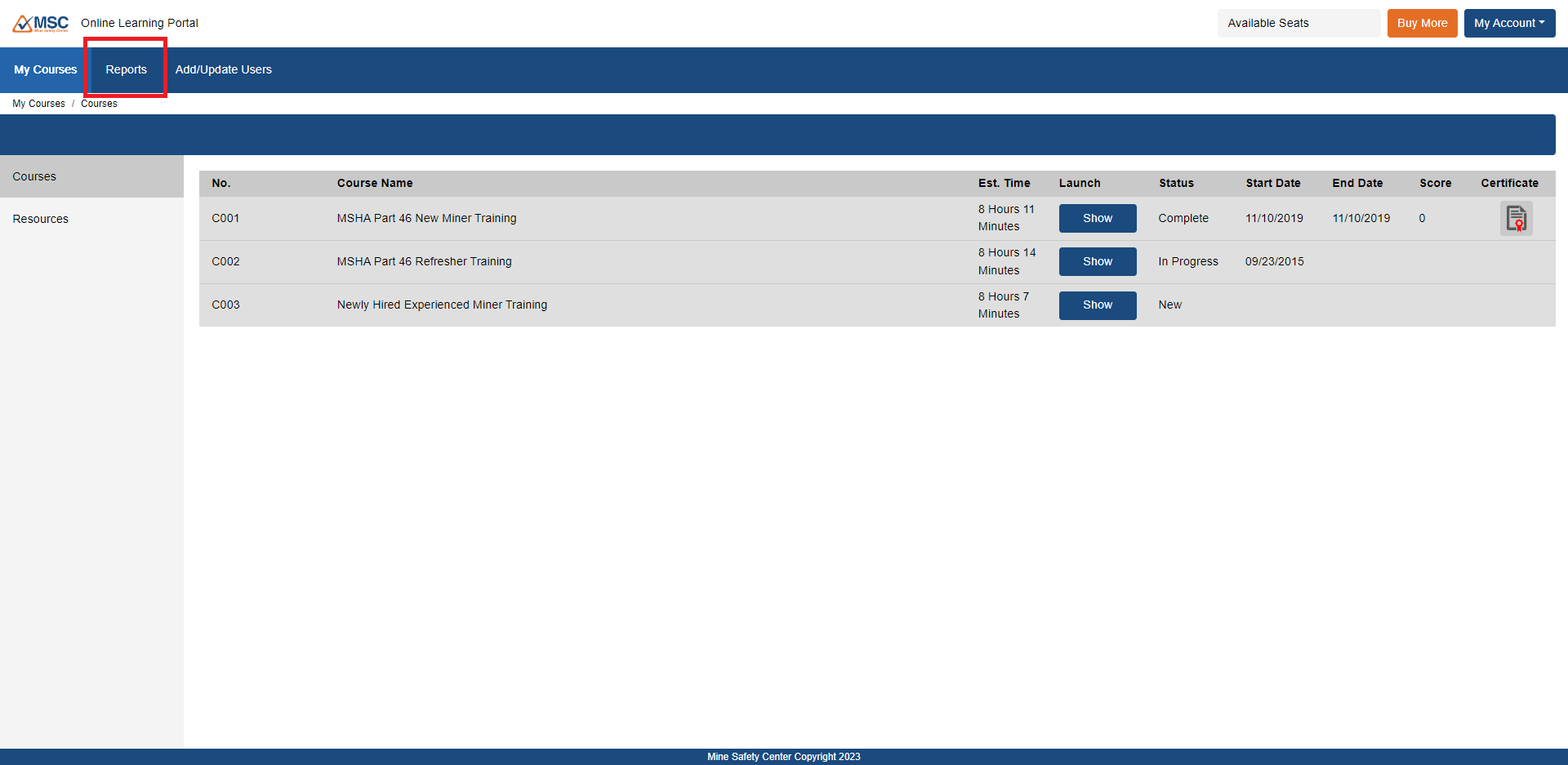 A list of your employees will be displayed. Use the search box, filter options, or page navigation buttons to locate employees.
Upon locating the desired employee, click their username. You will be taken to that employee's individual report.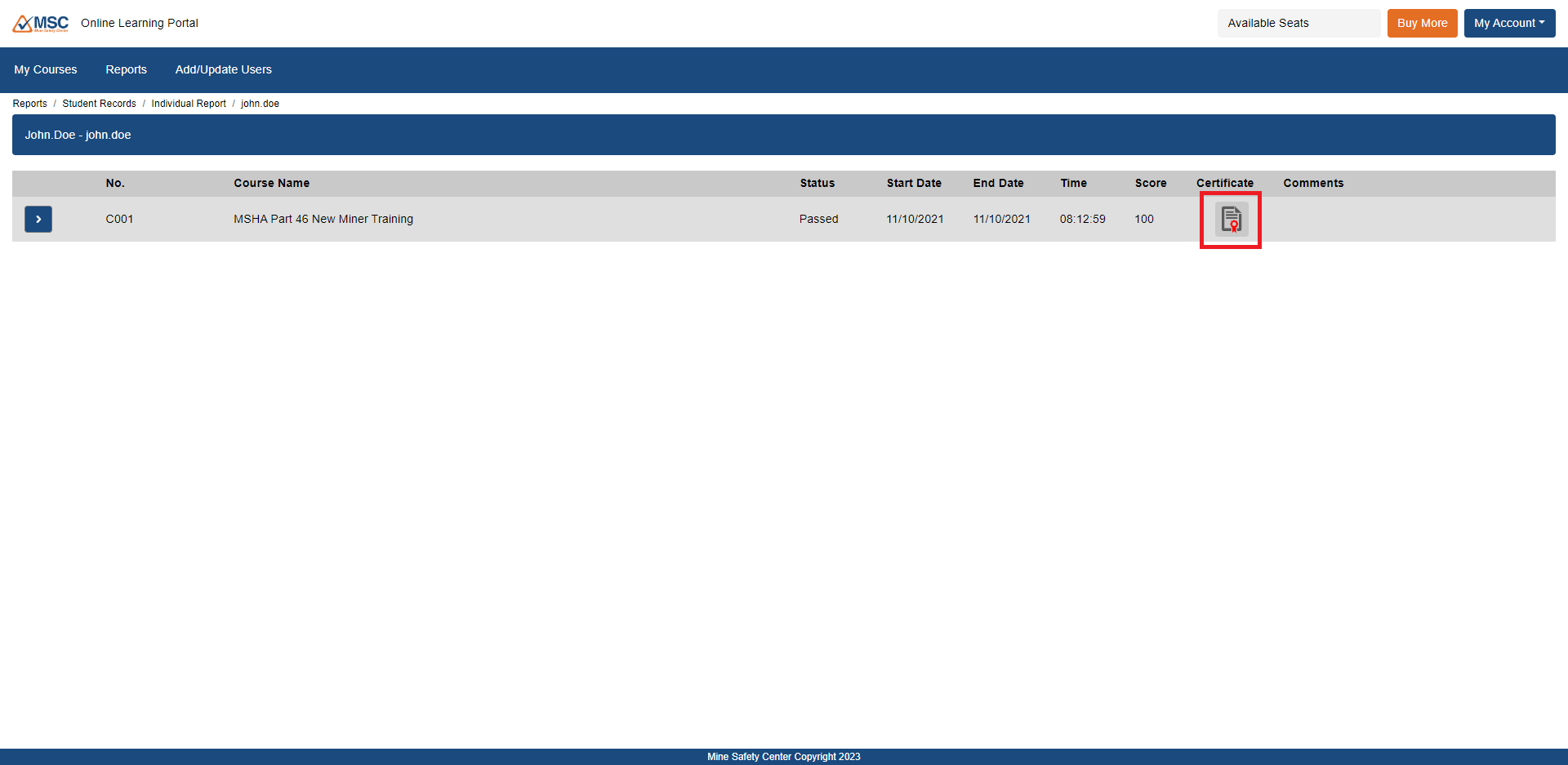 Find and click the certificate icon for the training they completed. The certificate will open in a new browser tab and may be downloaded directly or printed using the browser's built in print options.
Experiencing one of these issues?
The course is stuck on loading
Here are some common steps to troubleshoot issue with courses loading:
Is you internet conenction is working? A course module should never take more than a few seconds to load. You can check your internet connection speed at fast.com
What Internet browser are you using? We only support these common browsers:
Microsoft Edge – Included with Windows
Apple Safari – Included with MacOS
If you're using one of the supported browsers and still having issues, try another browser from the list.
How do I change my password?
You can change your password by choosing the Edit Profile option in the My Account drop-down: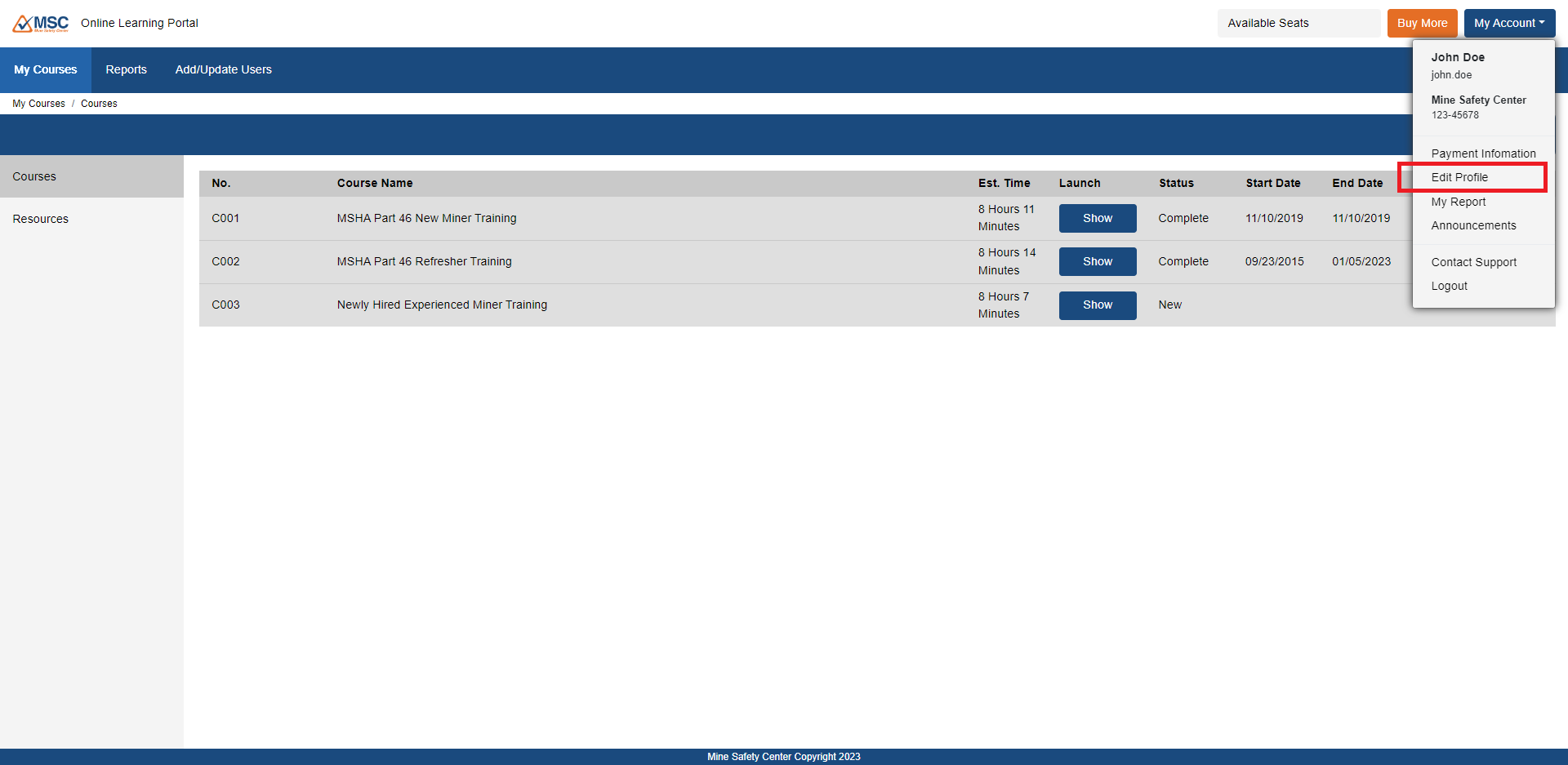 Enter your new password into both password fields and press save.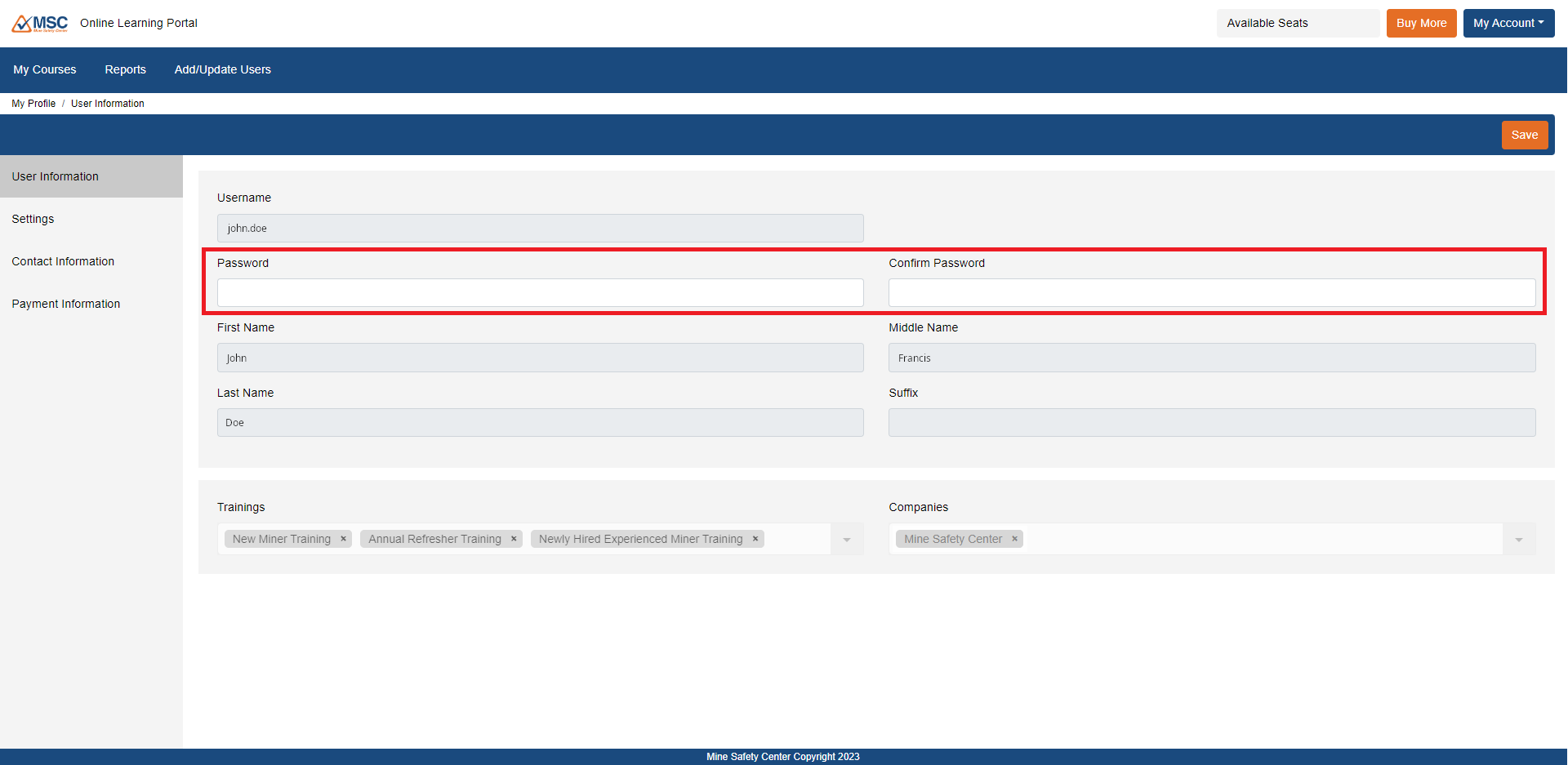 I forgot my password
You can reset your password from the login page by clicking the Forgot Password link.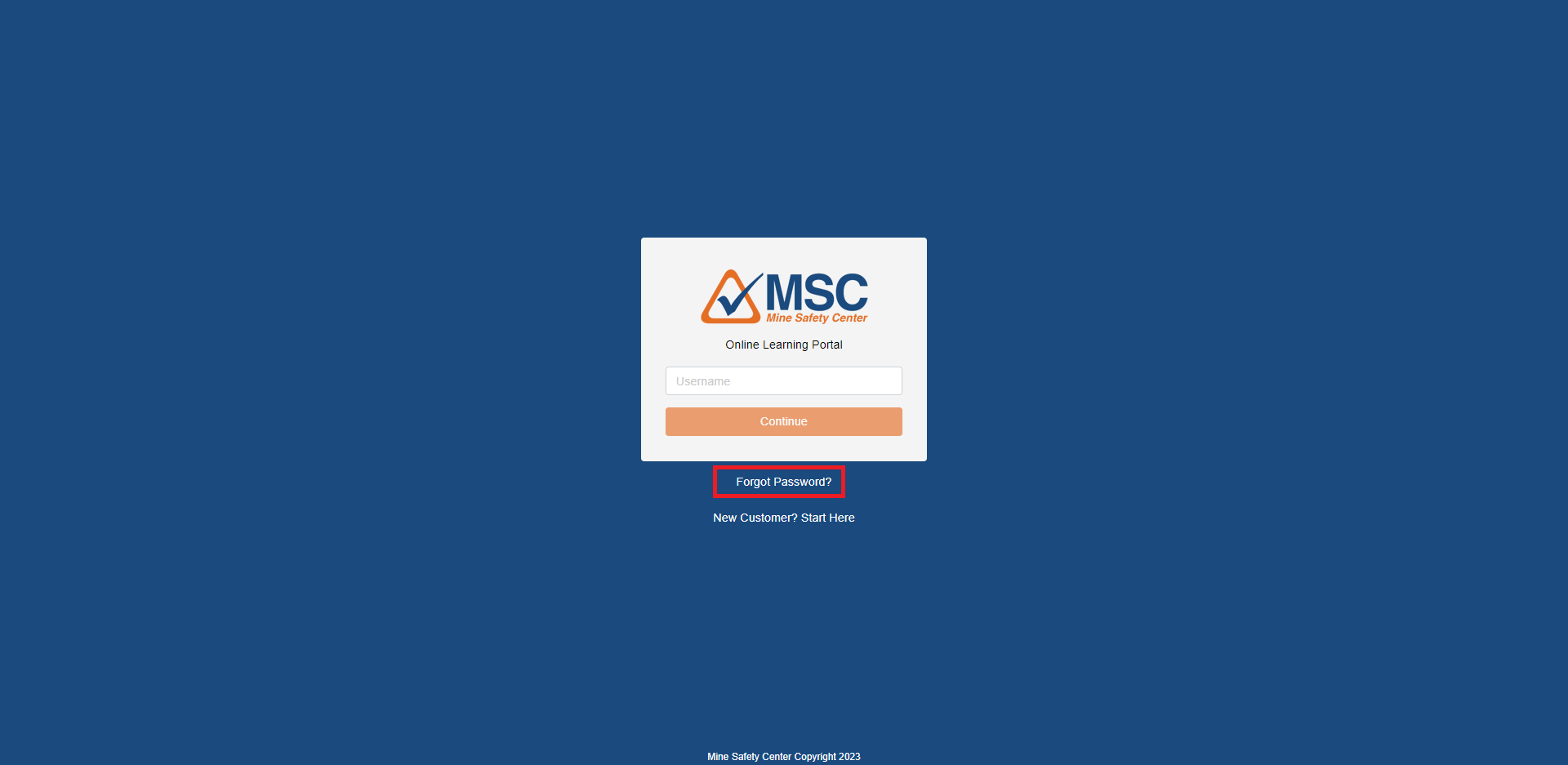 On the Forgot Password screen, enter the email address associated with you account and press Submit.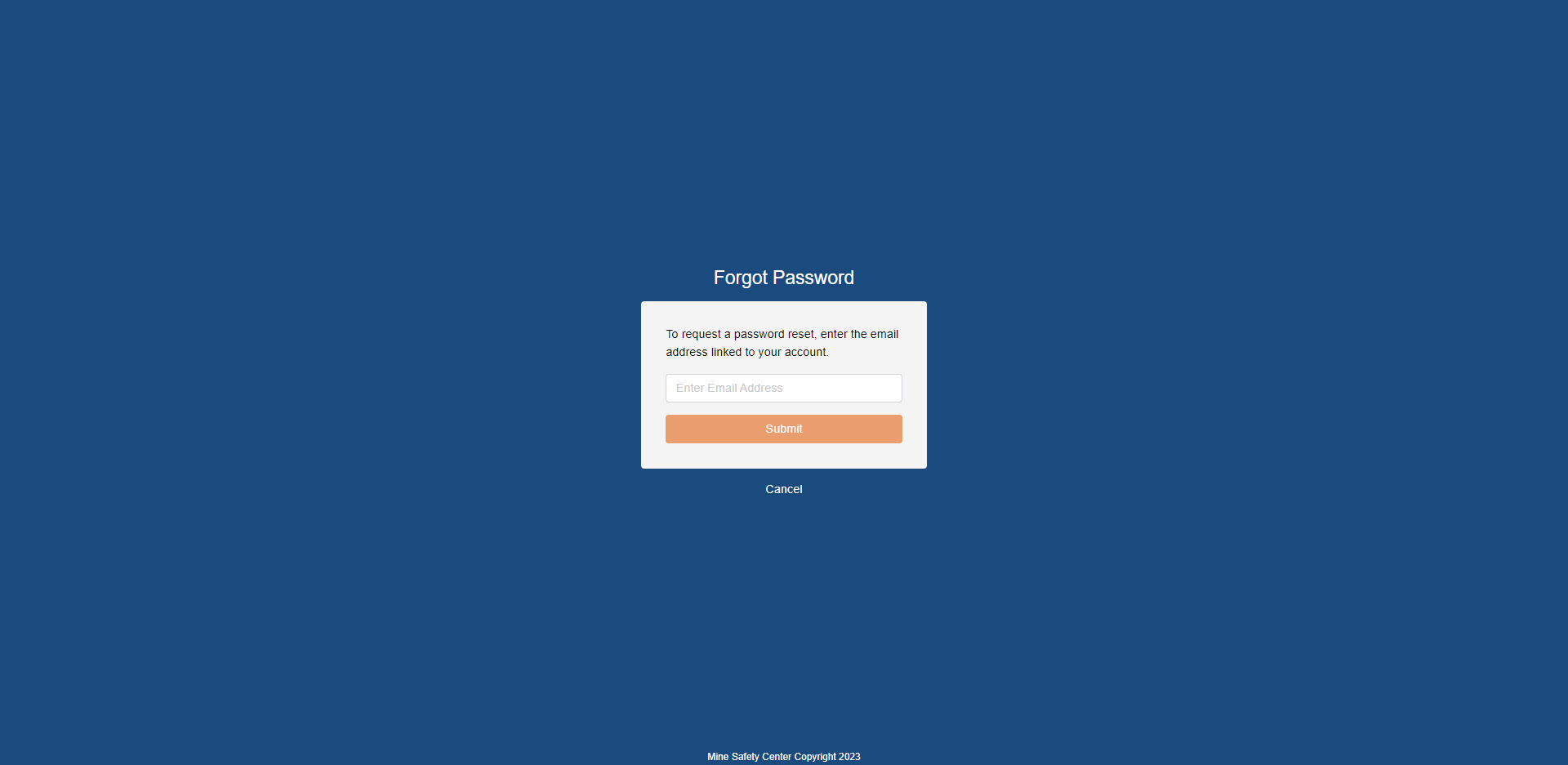 If the email provided is associated with a valid account, you will recived an email containing a link to reset your password. If no email arrives within 30 minutes or your account does not have an email address attached, please contact support@insurelearn.com.
If an account was created for you by a supervior or purchased and setup by someone at your company, contact that individual for assistance.
Why is name and address information missing on my certificate?
When possible we automatically enter your personal information into the completed training certificates. However, due to the strict nature of MSHA regulations, we only automatatically enter information if we have everything. Even then, it is your responsibility to review the information on your certificate for accuraccy.
In order to have your information automatically added to your training certificate, all of the following information must be present in your log in profile:
Full Name
First Name
Middle Name
Last Name
Suffix
What if I don't have a middle name or suffix?
If you do not have a middle name, enter a single space into the middle name field in your profile. If you do not have a suffix, you may leave that field blank.
Address
Location of Training
Address
City
State
Zip / Postal Code
Country
Tomorrow (April 25th) is the last day to let MSHA know that you want their disastrous new workplace exam rule delayed.
You can submit your comment right here.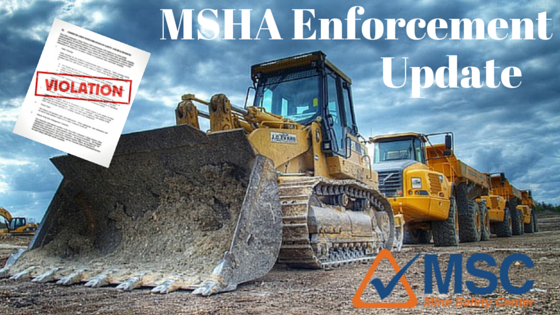 MSHA has been seeking comments on its proposal to delay the effective date of the metal/non-metal workplace exam rule "to provide stakeholders training and compliance assistance."
As Mine Industry Attorney (and friend of MSC) Willa Perlmutter puts it:
"It's an odd basis for saying they want to extend the rule, since the need for stakeholder training and compliance assistance was surely contemplated when the final rule was published back in January. This leads me to think that MSHA is considering whether to pull (or at least, to radically amend) the rule altogether."
MSHA Seeking Industry Comment
MSHA is looking for comments on whether or not to continue to delay a controversial workplace exams rule. NSSGA urges member companies to send comments on the rule to MSHA before the April 26 deadline.
We discussed the new workplace exam rule in detail before it was passed (and after). Now MSHA is seeking comments on whether or not to delay the rule further.
MSHA proposes to delay the effective date until July 24. Comments on MSHA's proposal to delay the rule are due by this Wednesday, April 26.
The NSSGA has come out against the new workplace exam rule and "suggests that members use the following points in their comments:
The status of the rule is not clear. MSHA indicated that there was a "pause" in the rule so that the rule could be reviewed at a policy level, but that review is not yet complete. The Trump administration has also yet to appoint an Assistant Secretary to administer MSHA.

Once the rule is in effect, aggregates operations will require compliance assistance from MSHA.

The rule is still vague on what constitutes a working place, conditions that may adversely affect safety and prompt notification.

The rule should be delayed indefinitely until it's status is finalized.
Comments should refer to rule RIN 1219-AB87. You can also email your comment to zzMSHA-comments@dol.gov or mail comment to: MSHA Office of Standards and Regulations, 201 12th Street South, Suite 4E401, Arlington, VA, 22202-5452.
This law will not improve worker safety. It will only lead to more citations. Contact MSHA with your thoughts now.
This guide will teach you to print your MSHA Part 46 Certificate after you've already completed your MSHA training with Mine Safety Center.
When you finish MSC's Part 46 training, you still need to print your MSHA Part 46 Certificate. When all of the modules are complete, a certificate icon will appear on the My Courses page.
To print your MSHA certificate, click the icon. Your certificate will open in a new browser tab. Verify the information is correct. Then click the Print Certificate button at the top right. Your browser's print options will open. The next steps to print will be slightly different from broswer-to-browser. If you wish to save the certificate as a PDF file rather than print a hard copy, look for the option titled "Save to PDF" or "Print to PDF".
In order to get the most out of Mine Safety Center's automatic certificate features, you need to complete information for each trainee profile, including:
Full name as it appears on a trainee's birth certificate including middle name (not just an initial) and any suffixes (Jr. etc.) if applicable
The address of the location where the majority of training will take place
The name of the training location. Is that location your office, their home, or some other location?
It's a good idea to gather all this information before you begin updating your trainee profiles.
How To Update or Edit MSHA Trainee Profiles
Log in to the Mine Safety Center training portal
Navigate to Add / Update Users in the main menu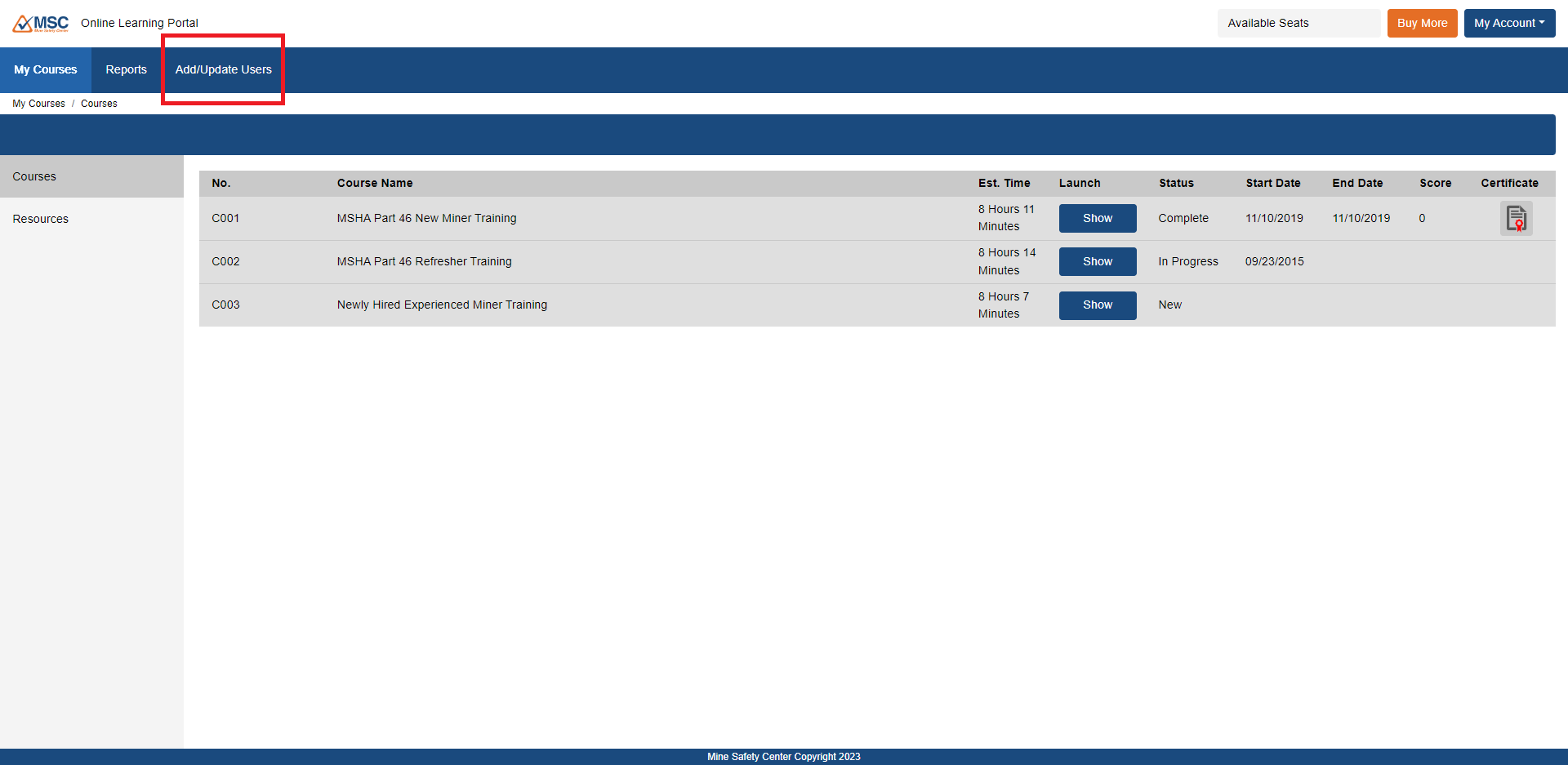 Use the search box, filters options, and/or page navigation to locate a specific trainee. When located, click on their username, first, or last name to edit there profile.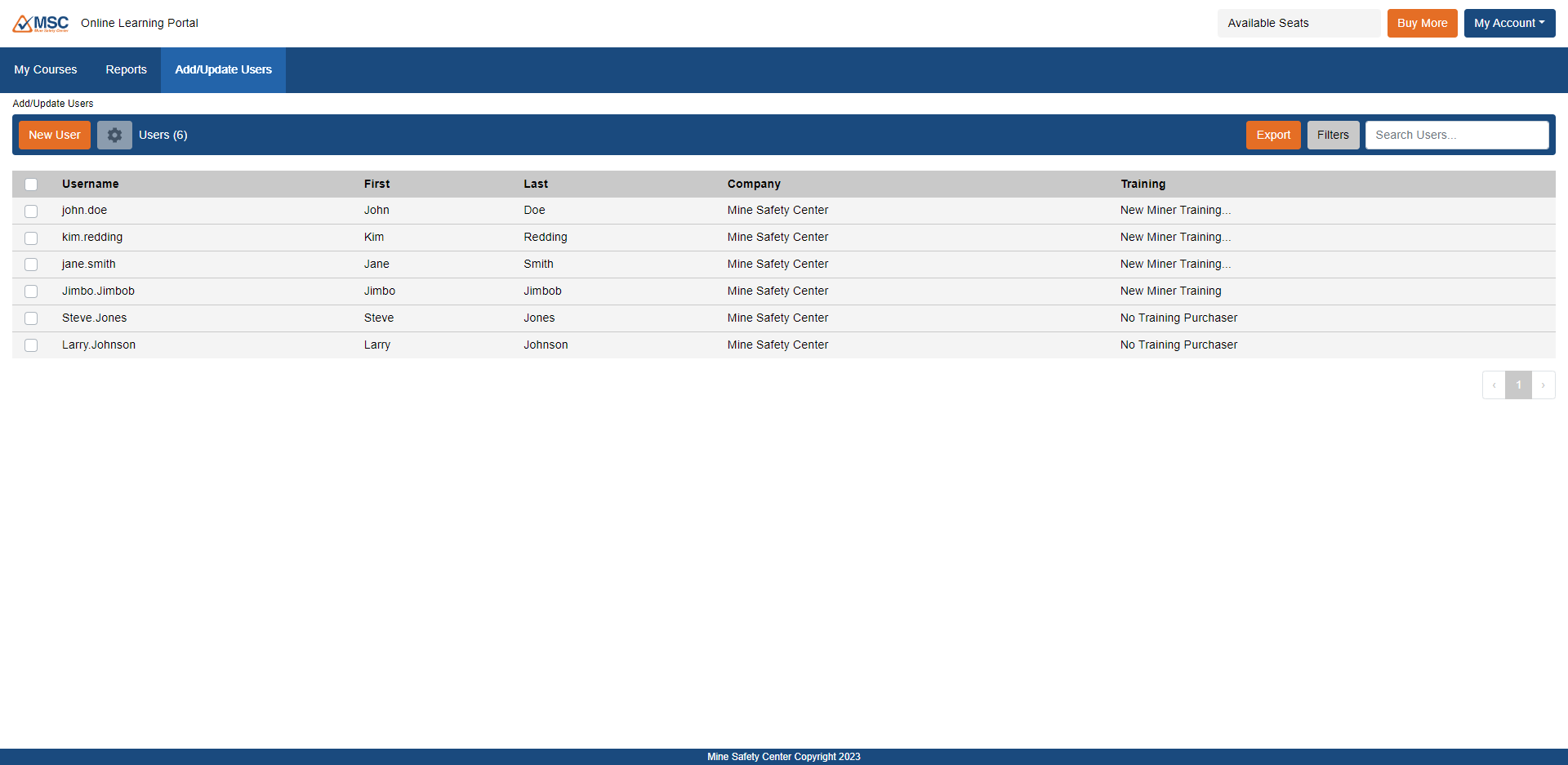 Your can update their full name in the User Information section.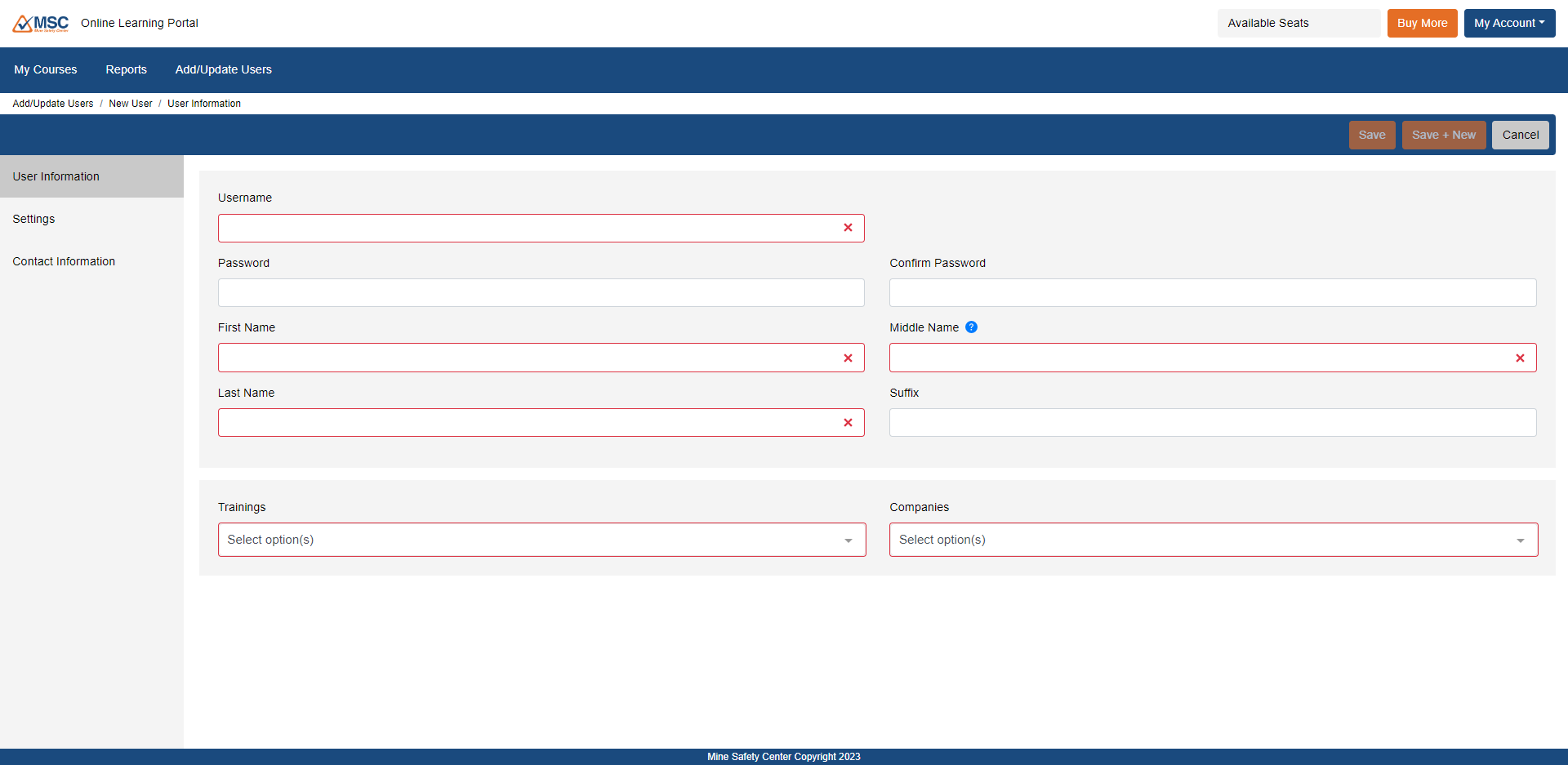 And their address information in the Contact Information section.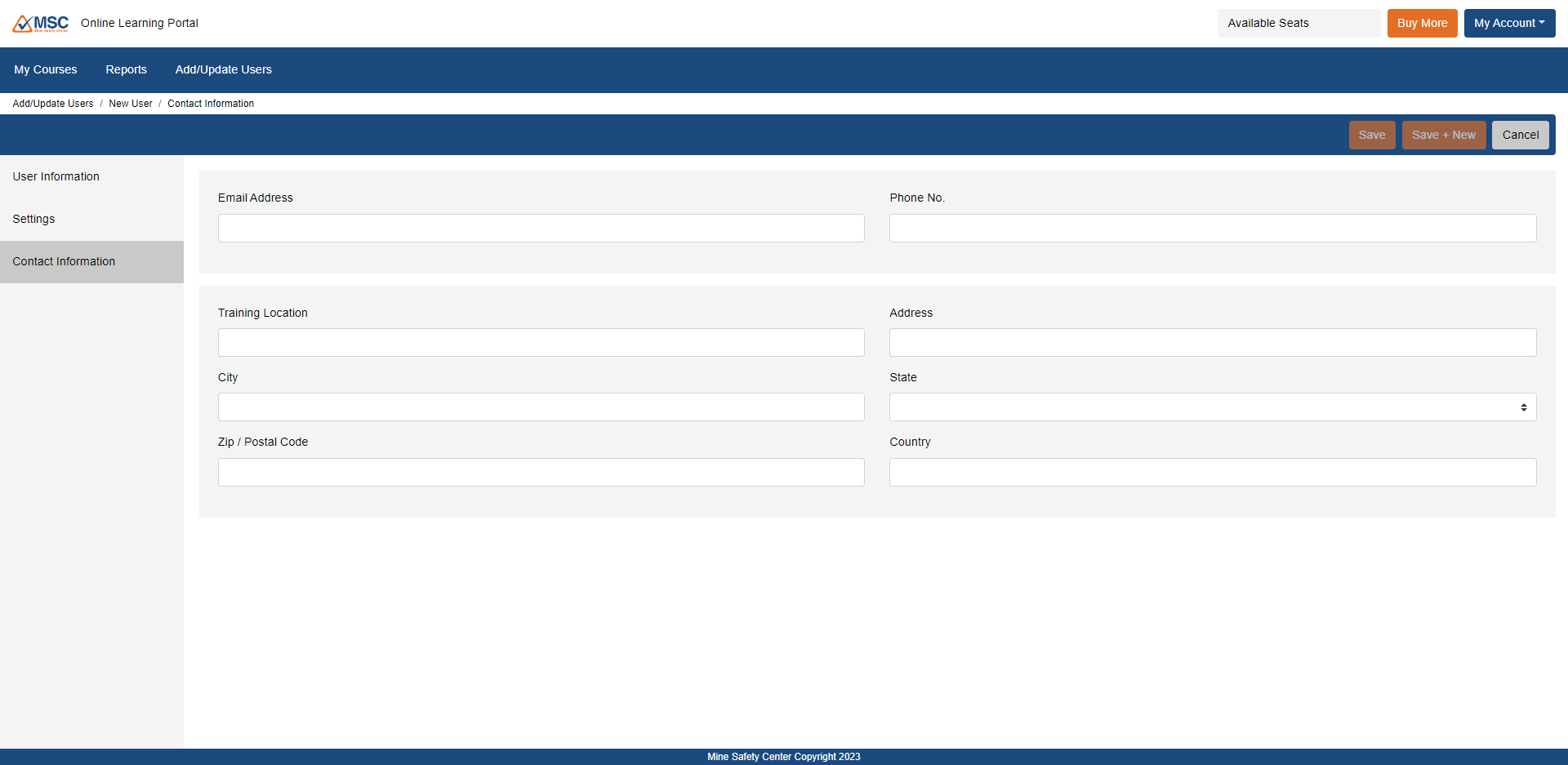 Press the Save button when you are done making changes.
We have confirmation on the updated MSHA workplace exam rule after some initial confusion around the Trump Administration's freeze on all Obama era regulations not finalized in the Federal Register. The MSHA workplace exam rule will go into effect on May 23rd as scheduled. This means your current MSHA workplace inspection form will soon be wrong.
Has anyone come up with an MSHA workplace inspection form that meets the new requirements?
Yes, and you can get it for free. More on that later.
How did the new MSHA workplace exam rule get through?
According to Willa Perlmutter, an attorney at Stoel-Rives:
"The Labor Department's current position is that the workplace examination rules were not affected by the memorandum and that the May 23 effective date remains in place."
However, a new Assistant Secretary for Mine Safety and Health has not yet been named, so it is possible that the incoming head of MSHA will take steps to amend the rules or even withdraw them entirely.
. It's full of helpful, specific information.
But There's Good News
Upon closer inspection, the final rule has 3 significant changes from the proposed rule.
The final rule requires:
The examination be conducted before miners are exposed to adverse conditions.
Affected miners be notified when a hazardous condition is found.
The workplace exam inspection form include the locations examined, the adverse conditions found and the date of the corrective action.
The proposed rule contained 3 elements that were eliminated as a result of industry push-back. These elements are:
Provide a description of the corrective action taken for each recorded adverse condition;
Maintain the name of the individual who performed the corrective action;
Sign and date the workplace exam record by the examiner.
It would have been extremely difficult to comply with those rules (not to mention time-consuming and expensive as we've previously covered). This is a big win for common sense regulation.
Trump can direct inspectors to ignore the new workplace exam rule, right?
Here's the deal:
Trump and the new head of MSHA can "De-emphasize" any regulation they want. But here's 3 reasons why you should still prepare your company to comply with the updated rule:
The Trump administration has indicated MSHA is a low priority in their administration. They might not de-emphasize the rule in the first place. And even if they do;
The updated workplace exam rule is officially on the books. It's a final rule. The new rule will be implemented eventually. The Trump administration and their Assistant Secretary for MSHA can decide to not enforce the rule. But as soon as a democrat comes to power they will enforce it.
The cost of complying with the new rule is much lower than the potential cost of getting a citation and going to court.
The new workplace exam rule is going to happen one way or the other. You may as well prepare your company.
The New MSHA Workplace Inspection Form
Changing the reporting requirement means every mine in the country must change their MSHA workplace inspection form.
Look:
Making new paperwork for this rule is tricky. There are a lot of traps you could walk into.
Fortunately for you, our very own former MSHA Inspector, Kim Redding, racked his brains for the last month to create a simple, 1-page form that fulfills the new MSHA requirements.
This MSHA workplace inspection form will allow you to document an entire small or medium mine with just one page. Larger mines can just use 2 or 3 sheets to get the job done.
The best part? You can download Kim's MSHA workplace inspection form right now – free.
An Evolving Situation
We will continue to follow this story closely. The updated workplace exam rules leave us with unanswered questions and much more to discuss. You'll be the first to hear about it if you get our MSHA Alerts Email. If not, sign up here -free- for industry leading news and analysis, delivered right to your inbox.
It's official, the new MSHA workplace exam rule will go into effect May 23rd, 2017. We covered this rule change when it was proposed in July. Safety officials and managers across the country had a negative reaction to the proposal, to say the least (more on that later).
What's in the "New" MSHA Workplace Exam Rule?
Let's review what's happening with the MSHA workplace exam rule. There are 4 main changes that will have a massive impact on how mines across the country conduct their workplace exams.
The updated Workplace Exam standard requires:
The examination be conducted before miners are exposed to adverse conditions.
Affected miners be notified when a hazardous condition is found.
A record of the examination include the locations examined, the adverse conditions found and the date of the corrective action.
And:
The final rule also requires that the examination record include: the name of the person conducting the examination, the date of the examination, the location of all areas examined, a description of each condition found that may adversely affect the safety or health of miners, and the date of the corrective action.
But the new rule isn't new at all. This is from our article in July:
The "New" MSHA Workplace Exam Rule Has Already Been Tried and Is Ineffective

This proposed "new" rule, has been tried before and history has shown it doesn't accomplish the goals of lowering fatalities and injuries. As anyone on a coal mine knows, a worker must have an MSHA Blue card in order to complete a coal mine workplace exam.

Essentially, MSHA has been individually verifying who is competent to conduct a coal mine workplace exam for years.

How has that worked out?

There have been huge, deadly disasters under MSHA's watch where MSHA's own report cited "insufficient workplace exam" as a root cause.

MSHA approved every person conducting those "insufficient" workplace exams.

Joe Mains cited the 122 deaths on M/NM sites from 2010 to 2015 as a reason this new law is necessary. But how will this standard improve safety at M/NM operations when it hasn't worked in coal mines? Insanity is trying the same thing over and over while expecting different results.
The most insane detail comes from MSHA in the proposal itself:
"MSHA is unable to quantify the benefits from this proposed rulemaking, including the proposed provisions that an examination of the working place be conducted before miners begin work in an area"
The people proposing this rule admit there is no evidence it will improve safety. And there is a reasonable argument this rule will make miners LESS safe which we also went over this summer:
MSHA wants workplace exams conducted with documentation of all "adverse conditions" (the definition which was not clarified by MSHA, mind you) "before work can commence."

Unfortunately, there's a gaping hole in this thought process that could affect mines all over the country. What about the rest of the day?

A changing environment is in the nature of mining. Site terrain changes when you remove dirt. That's a law of nature. That doesn't even take into account constantly changing stockpiles or wear and tear on machines and tools.
Won't the New Administration Throw Out the Rule?
Here's the deal:
No one knows how President Trump is going to handle this. He may choose not to enforce it but there are still a lot of moving parts and Senate confirmations before anyone can make a prediction.
Even if a Trump Administration decides to delay enforcement, he can't throw out the regulation. There is no legal way for him to take it off the books now that it has gone through the public comment period. That means eventually when a Democrat takes the White House, this rule will be waiting for their Assistant Secretary of Labor for Mine Safety.
This new MSHA Workplace Exam rule will be implemented. It's just a matter of when. And when it is enforced you NEED to have all your ducks in a row.
What's So Bad About This Update To The MSHA Workplace Exam Rule?
Many mine safety personnel and managers across the country spoke out against this rule during the public comment period. Let's take a look at what they have to say.
The proposed rule is focused on workplace conditions, but not the behavior of workers.

The proposal targets a false problem. The historically low injury rates achieved by industry demonstrate a collective commitment to safe practices. These rates are not achieved by luck or by fluke: aggregates operators take their safety responsibilities seriously, including the identification of hazards and unsafe conditions. What MSHA is overlooking is that the overwhelming majority of injuries and accidents are functions not of inherently unsafe conditions but of unsafe behavior of either management or workers. MSHA's proposed workplaces examination rule will laden operators with costly additional administrative burdens while doing nothing about the predominant source of workplace injuries – the carelessness by some in the workplace. We have seen in recent years that safety improvements focused on improving behaviors of workers are more effective at reducing injuries than ones focused on workplace conditions.

Joseph Casper, VP of Safety, NSSGA
Saving miners' lives is important; we'd just like to see the evidence out there that this particular rule is going to advance that cause.

A real concern, however, for mine operators is that the new rule may have unintended consequences of just being another way to cite mine operators. For this rule to have validity with the workforce, it needs to be seen as protecting workers, not just as a punitive tool.

These concerns are not that far-fetched, as some recent examples of MSHA's citations might attest to. An operator was cited for a sign that stated "no smoking, matches, or open lights" in this area, because the standard requires the same sign to say "no smoking or open flames." One word. An operator was cited for using the incorrect font on a site-specific training checklist, and an operator was cited for not including the middle name of an employee on a task training certificate.

 Brian Bigley, Safety Manager-Lehigh Southwest Cement Plant Tehachapi, Representing CalCIMA
 This image from our last post feels appropriate again:
There are hundreds of quotes like those in the public comments. We're still grappling with the far-reaching effects of this rule change. Some of the initial issues are:
Will MSHA workplace examination forms need to completely change?
How will mine administrators keep up with this additional paperwork?
Who is going to complete these new workplace exams? Management? Workers? Do workers need to be listed as "Competent People"?
How will MSHA inspectors interpret "adverse condition"?
How will management make sure every "adverse condition" noted on a workplace exam form is then followed with when it was fixed?
We'll try to answer all of those questions (and the dozens I'm sure will pop up) in future articles.
3 Mine Safety Tips for Changing of Seasons
I think you'll agree with me when I say:
Mine safety is a constant work in progress.
Sure everyone buys in during training and safety events, that's good. But the true test of a safety culture is when your team needs to hit a deadline during the most dangerous month of the year. As MSHA reminds us, "October historically ranks as the deadliest month in metal and nonmetal."
And in today's post, I'm going to show you 3 hidden dangers that could impact your company's safety this fall.
Changing Season Dangers – Don't Let One Mistake End a Life
MSHA's yearly reminder highlighted the "need for the entire mining community to refocus efforts on preventing these tragedies."
Unfortunately, the letter didn't give any specifics. I was hoping it would include actionable safety steps for companies.
Well, it looks like we're going to do this ourselves. I spoke with mines safety expert and former MSHA Inspector, Kim Redding. During our call, Kim discussed some unique reasons the change of seasons is so dangerous and some simple ways you can avoid those dangers.
The most obvious danger during changing seasons is from the weather. Most of us know that transitioning weather patterns and added moisture cause all kinds of issues on mine sites. I won't get into the physical dangers because I've discussed them extensively in a previous article.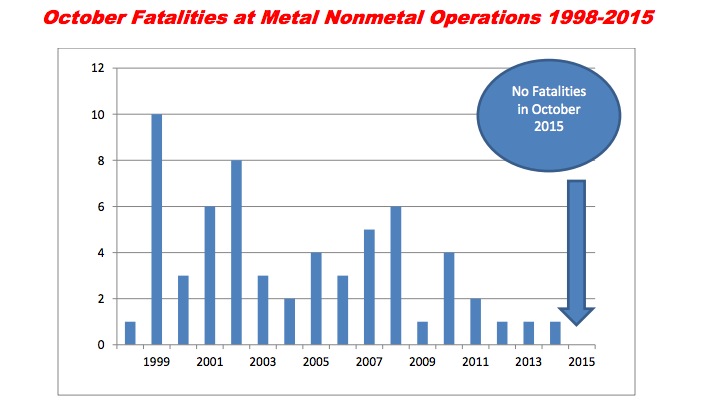 3 Dangers of Changing Seasons You Might Not Consider and What To Do About Them
This article takes a look at dangers you might not see; dangers hidden in your co-workers' heads.
Mental lapses can be just as deadly as the machines you work with.
1. Rushing Workers Under a Deadline
"One of the biggest reasons for accidents during the fall is rushing to get projects done," Kim said.
Companies and workers are under 3 time constraints at this time of year: deteriorating weather, less daylight, and looming deadlines.
As summer turns into fall, weather deteriorates and the days get shorter. Bad weather and less sunlight makes working conditions much more difficult. But projects still need to get finished.
On top of that, many companies are under contractual deadlines.
"Let's use road-paving projects as an example," Kim continued. "Those jobs have to get done before it gets too cold to pave. I have to lot the companies I get fined daily for every day they don't meet their deadline; big fines that are written into the contract.
Now, machine breakdowns are normal throughout the year. But if you have one more breakdown than you expected, all of a sudden you're paying to pave the road."
Who wouldn't be racing to finish a project under that kind of pressure? Workers are preoccupied, just trying to take care of everything as fast as they can.
But that's when accidents happen.
Prevent Accidents With A Simple Shift In Mindset
Notice when you or your coworkers are rushing and call it out. Never sacrifice safety for speed. You can work quickly without rushing.
Remember "The Tortoise and the Hare"? Your Grandmother saying "A stitch in time saves nine."
There's a reason that moral has been around for ages. Sometimes you need to slow down to go fast.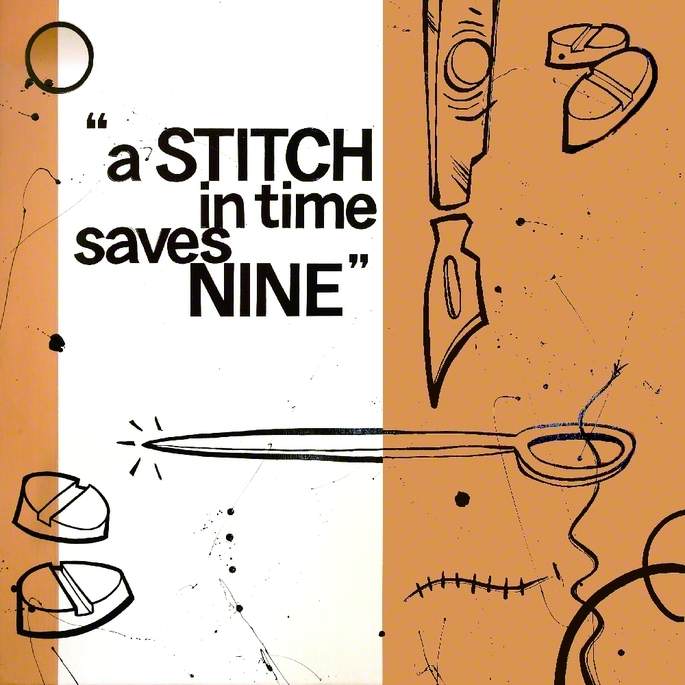 If you need to finish a job quickly, an accident or breakdown will only make everything take longer. (Not to mention the potential for tragedy that would be an injury or death)
If you've had a lot of lost time to breakdowns this year, you may want to look at your pre-op exams. Spotting damage before it gets worse can save you a lot of time and money in repairs. Investing a bit of time in retraining your crew can pay off big.
Simple? Yes. Does everyone do it? Unfortunately, no.
When we get busy it feels like we don't have time for preventative maintenance. It's human nature. But that's when you need preventative maintenance matters most. Accidents, injuries, and broken equipment have a much higher cost than a couple extra minutes for a thorough pre-op.
What should you look for in a pre-op?
That will depend on your job and the machinery you're using. But Kim's free Pre-Operational Exam template is a great place to start.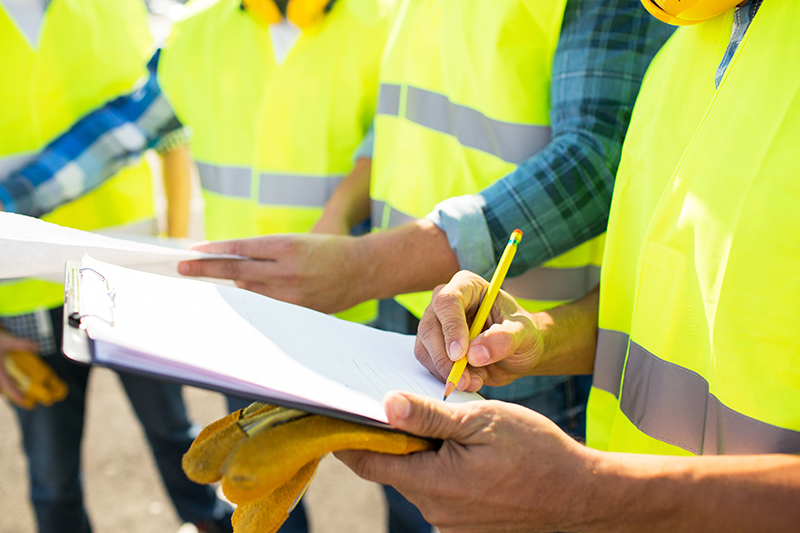 Get a free mobile equipment pre-operation checklist from a former MSHA inspector
2. Distraction Leads to Danger
The change of seasons brings distractions at home too.
Kim said "I see it when I'm training. I'll ask guys what do you think takes your mind from the job?' And the most common reasons I hear are:
All the things I need to finish before winter at the job and at my house
The holidays are coming up and I need to start planning trips and thinking about presents
It's hunting season
Kim continued, "through interviewing workers I find things they say takes their mind off the job and managers at mines can too. External distractions may not be something managers take into account but you need to."
Proactively Fight Distraction
The best way to fight distraction is to openly discuss it. Co-workers should be accountable for themselves and each other.
Notice if your mind starts to wander. What's causing you to lose focus? Acknowledge the distraction then refocus on the job.
Keep an eye out for your co-workers. Do they seem engaged? Do you need to tell them something a few times? Call attention to it.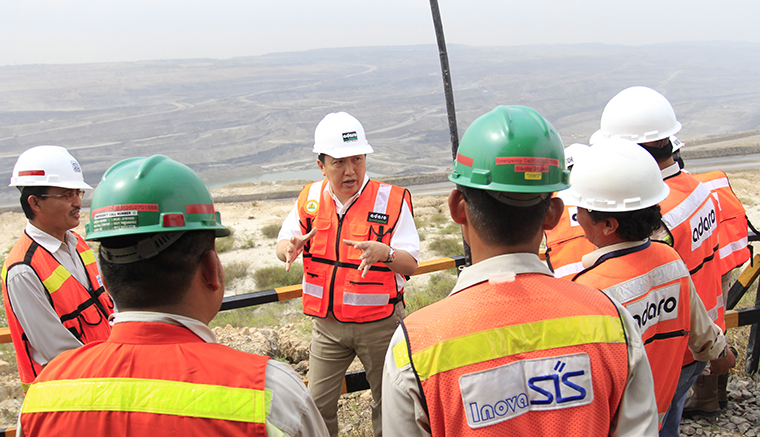 If someone isn't paying attention during a task, don't start until you get their attention.
Simple stuff, but it could save a life.
3. Unfamiliarity or Uncertainty With Yearly Tasks
Here's the deal:
A job's risk dramatically increases when workers are unsure or unprepared for the task they're performing.
Closing or preparing a mine for winter only happens once a year. While workers may have been trained on a task or procedure, training fades over time without repetition.
Workers complete mine closing tasks far less often than their day-to-day jobs, leading to unfamiliarity.
Unfamiliar Tasks Are New Tasks
Completing yearly tasks has killed or injured a lot of experienced workers over the years. You can do the same job once a year for 15 years and still get tripped up. There's just too much lag time. Not to mention the small changes from year to year that always affect jobs.
That's why you should always approach a yearly or unfamiliar task as a new task.
Research the task, discuss it, and plan it out before any work starts.
Your team needs to know the plan and their role within it. Everyone must be able to follow the plan throughout the job.
To recap, you can dramatically improve mine safety by highlighting 3 fundamental practices
Pre-Operational Exams can – and do – save lives
Proactively Fight Distraction and Rushing
Discuss and Thoroughly Plan All Intermittent Tasks