MSHA Part 46 Training Online That Makes Your Job Easier
MSHA Training On-Demand – with Automatic Paperwork
Even if you're Not a Technology Person
Check Out The MSHA Part 46 Training Courses:
Don't Know What Training You Need?
MSHA Part 46 Training For Busy Workers Just Like you
Dramatically Cut – Or Eliminate – MSHA Training Downtime
Train When it Fits Your Busy Schedule – On Demand
Train in Short Sessions or Straight Through
Train Individually or in a Large Group
Easy To Use – Even If You're Not Good With Computers
Simple and Easy To Use Program
Trainees Can Start in 5 Clicks or Less
Free Computer Check Makes Sure Training Runs Smoothly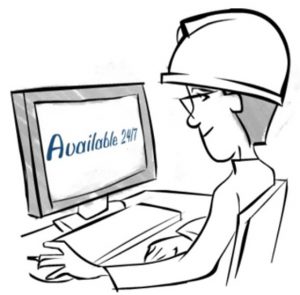 Trusted By Companies Large & Small




Save Time & Hassle With Automatic MSHA Part 46 Certificates
"We're new to working on mines so we loved how the Mine Safety Center's system did all our training paperwork for us."
Michelle McCoy
Program Specialist, UIC Inc.
See 75 Seconds on How Automatic MSHA Certificates Make Your Job Easier
Meets All MSHA Part 46 Training Requirements
Raining & Can't Work? Project Delayed? Knock Out Some MSHA Part 46 Training
Meet MSHA's Part 46 Training requirements anywhere with an Internet connection – any time that's convenient. MSC's MSHA Training System automatically tracks your progress and Course Bookmarking lets you stop at specific save points.
Easy To Use – Even If You're Not "Tech Guys"
Trainees automatically get step-by-step instructions to log in and begin MSHA training in just 5 clicks of the mouse. And every purchase includes a free System Check to make sure your training runs smoothly.
See 60 Seconds on How MSC's MSHA Training Can Save You Time and Money
The Only Online MSHA Training From A Former MSHA Inspector
Mine Safety Center's Co-Founder – Kim Redding – is a Former MSHA Inspector & recognized mine safety expert with over 30 years of experience.
Kim specifically designed MSC's MSHA Training system to efficiently meet all of MSHA's Part 46 Training & Reporting requirements.
Kim is a skilled trainer & knows how to convey the right message to employees regarding safety and compliance.

Mike Heenan
Shareholder at Ogletree Deakins

No Credit Card Required. No Strings Attached
Easier & More Convenient Than In Person Training
| | In Person Training | MSC Online Training |
| --- | --- | --- |
| Train whenever it's convenient | | |
| No Downtime | | |
| No Travel | | |
| MSHA training delivered by an Ex-MSHA Inspector | | |
| Finishes the paperwork for you | | |
| Automatic MSHA Refresher Reminders | | |
Start MSHA Training Instantly in 4 Easy Steps

How Many Trainees?
Sign Up

Register Your Trainees

Start Training Instantly
Meets All MSHA Part 46 Training Requirements
Frequently Asked Questions
What if I have employees that need New Miner & Annual Refresher?
Mix and Match MSHA training as you need it. New Miner, Annual Refresher and Newly Hired Experienced Miner training can all be assigned individually.
Is There A Contract?
The standard plan is pay as you go. Only get the training your company needs. And there's no time limit to finish the training.
Do we need a computer for each trainee?
No. You can take the training in a group with one computer. Employees can also complete the training on their personal computers.
Can we stop in the middle of a section?
There are designated bookmarks within the training. The system will bring you back to the most recent bookmark if you close the training in the middle of a module.