Quarterly MSHA Training Call
Updated on April 27, 2016 by Sales Team
---

Notes on the Q1 Quarterly MSHA Training Call
The Q1 Quarterly MSHA training call was held on April 27th, 2016 and contained quite a few bits of new information. Assistant Secretary of Labor for Mine Safety and Health, Joe Mains opened with an overview of 2015 and looking forward at 2016. Mr. Mains commented that the safest year ever in the U.S. for mine safety and health. He specifically pointed to the drop in silica and respirable dust levels every year since the black lung initiative began.
Mr. Mains also touted the new pattern of violations rules as a success.  When MSHA established the new POV rules in 2010 there were 51 mines that were subject to POV status. In 2016 there was only 1 which didn't even fully meet the criteria. (I would argue at least some of that drop was companies adjusting to the new rules, but I'll get into my thoughts in a bit.)
MSHA Looking To Learn from 2015 Tactics
MSHA has "taken an aggressive all hands on deck approach" since August 3rd, 2015 when three miners tragically lost their lives in separate incidents, a first since 2002. Jeff Duncan, MSHA's Director of Educational Policy and Development, went so far as to call it "aggressive actions on steroids" but was quick to point out the cooperation from industry associations and companies (More on that later).
MSHA officials declared that last year is the template and road map for the future. Coal will now take up best practices discovered on M/NM side. What might that look like?
MSHA Initiatives and Enforcement in 2016
During the call there were repeated statements that MSHA will continue and potentially increase their heightened presence at sites across the country. That includes "more boots on the ground and more focus on enforcement." We will also see the increase in impact inspections continue.
MSHA indicated they plan to:
Put more focus on outreach which officials say keeps safety awareness higher.
Continue talking with industry, and encouraging industry officials focus on learning the lessons from recent serious injuries and fatalities. Especially focusing on an increased use of best practices in pre-op exams."
Release Safety Alerts monthly to "keep industry the focused on safety."
Conduct more walk and talks on coal side.
Encourage companies to "look hard at conditions that have cost miner's lives." pre-shift examinations. Curb injuries with walk and talks.
Quarterly MSHA Training Call Signals Continued Enforcement
Over the past year MSHA has consistently extended an olive branch to industry associations and leaders. They are involving the mining industry in their safety initiatives through partnerships and meetings, more than ever before. That may be the carrot in MSHA's carrot and stick approach.
But MSHA officials are also on site more than before. More walk and talks, inspections and meetings.
MSHA sounds convinced their increased involvement has been the crucial factor in improving mine safety. Maybe they're right when you take the long view. Fatalities and injuries have trended steadily down since the Mine act was passed in 1977.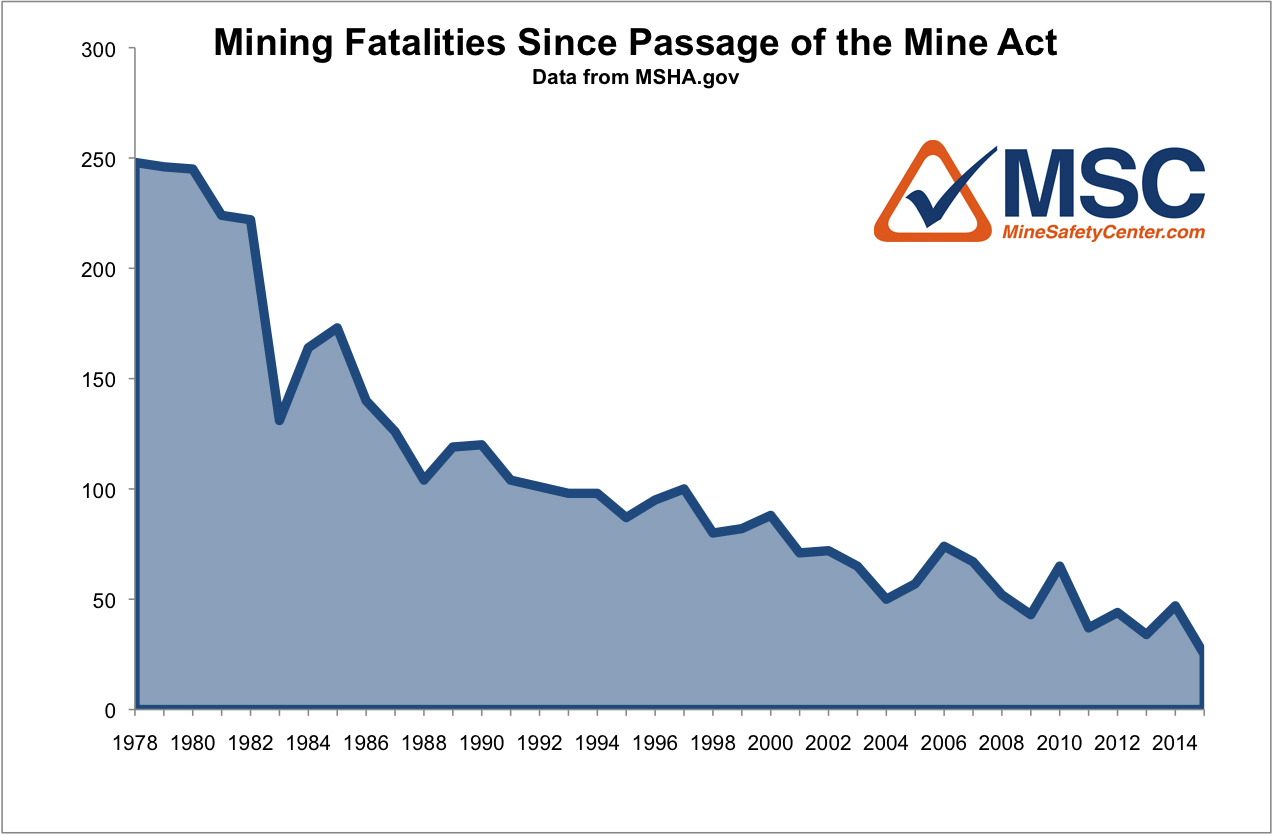 But they only have 6 months of data to back up their conclusions on these latest, drastic initiatives. It remains to be seen whether it's a wise choice to base what sounds like an overhaul of the administration's operating procedures with so little data.
I'm rooting for better industry and MSHA cooperation. The goal of both groups is a safe and productive work force. I'm still leery of Joe Mains' history of overzealous citations and fines.
What does this mean for you? Get ready to see a lot of your friendly, neighborhood MSHA inspector and other officials this year. Focus on the safety basics and you should be fine.
Let's just hope MSHA doesn't turn it's olive branch into a club over the next few months.
Sign up to get MSHA updates and tips like this sent right to your inbox. Don't get blindsided by MSHA, stay informed.

You can find the quarterly MSHA training call notes on MSHA.gov. The call's audio recording will be released later.