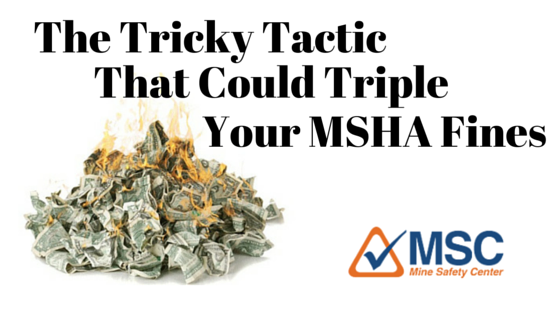 How A Few Words Cost Thousands in MSHA Fines
MSHA inspectors are at your mine for one reason: to find violations and write tickets. Once they find a violation, they must determine how they should mark the violation to assess MSHA fines.
One of the major determining factors for marking MSHA fines as "Negligence" or "High Negligence" is how long management knew about a violation without taking action. When I was an MSHA inspector I would always ask "How long has that existed?" when writing a ticket. Many times inspectors will suggest how long a violation existed. Something like, "It looks like that's been broken for a few years, don't you think?"
This is where you can really step in it.
Some managers agree thinking it will get the inspector off the property faster. Instead, they may have tripled the MSHA fine up to $242,000.
How? You probably already know. The manager confirmed a time frame.
If you don't know how long a violation has existed that should be your answer, "I don't know." Nothing more.
I've seen 3 words cost a mine operator $7,000. Here's How:
To fill fuel the tank at this mine, a person must climb a ladder with a fuel hose. Recently, an inspector came to the site and pointed out that the person climbing the ladder can't keep 3 points of contact because they need one hand to hold the fuel hose.
While the inspector is right and the tank should be (and was) corrected, this fuel tank has been repeatedly inspected for literally decades with no warnings, no MSHA citations, and no MSHA fines.
The inspector then asked my client, "How long has this tank been like that?" This leading question prompted the 3 words that cost my client $7,000.
"Heck, 25 years."
By agreeing to a time frame, he acknowledged that he knew a violation existed and did nothing to fix it – even if he didn't know it was a violation. And that is how a violation escalates from low or moderate negligence to high negligence or reckless disregard.
(Oh, and since you're in management, making this mistake can also expose you to personal MSHA fines – going after YOUR bank account – as high as $242,000. But that's another post.)
What he should have said was…
"That was a violation? I didn't know. No one has ever said that was a violation before." Don't accept the premise of his leading question.
You can even lose money when the inspector is wrong
That's right. You can lose money if an inspector incorrectly cites a condition as a violation.
I'll give you an example from a client in the northwest.
At this particular mine there is roadway on top of a hill with a slope on either side. A little while ago a new inspector was at this mine and decided this roadway needed berms and the mine was in violation. The inspector asked how long the road had been like this. The owner's response?
"About 30 years."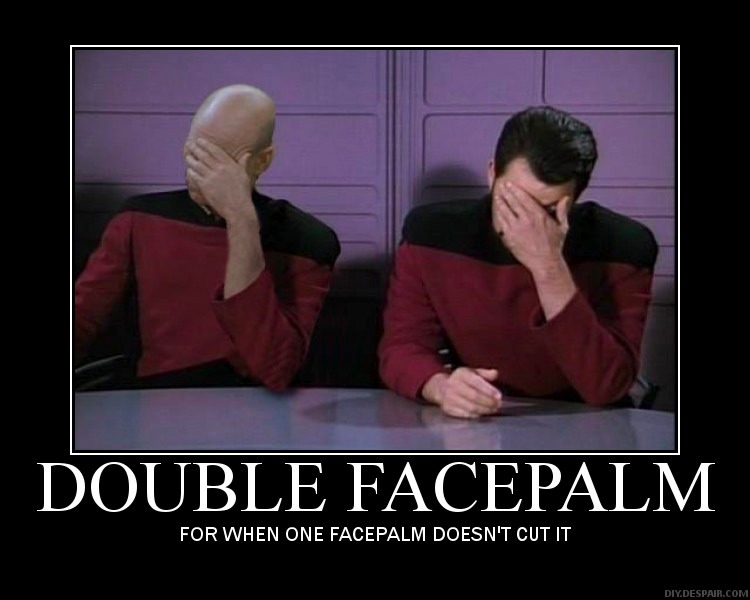 That's a major MSHA fine. It's also incorrect.
The MSHA regulation for berms states:
30 cfr 56.9300(a) – Berms or guardrails shall be provided and maintained on the banks of roadways where a drop-off exists of sufficient grade or depth to cause a vehicle to overturn or endanger persons in equipment.
This roadway was compliant with MSHA regulations. Unfortunately, my client accepted the premise of this inspector's question. Even though it wasn't a violation the mine operator received a $23,000 ticket.
Yes, the operator can fight the ticket and win. But legal fees will cost almost as much as the ticket and take a significant investment of his time. Going to court also comes with a big risk. Depending on the judge, he could lose his case which would cause him to pay the ticket AND his attorney.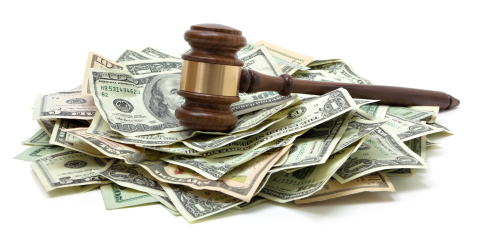 Prevent MSHA Fines By Spotting Incorrect MSHA Citations Before They're Filed
He should have argued the ticket on the spot with something like, "What's the problem? You guys have inspected my site for years and that's never been an issue. Why didn't all the other inspectors think this was a violation?"
If after this conversation the inspector still believes it's a violation, the operator should have been issued a warning with the chance to re-mediate.
But because he slipped up, this operator paid the fine plus the cost of fixing the berm (which also caused weeks of downtime).
The simple question of "how long has that existed?" opens a nasty can of worms.
If someone at your site falls into this trap you'll be getting a visit from a Special Investigator.
How is a Special Investigator different than an MSHA Inspector and what should you do if one is on your site? That's a topic for another day.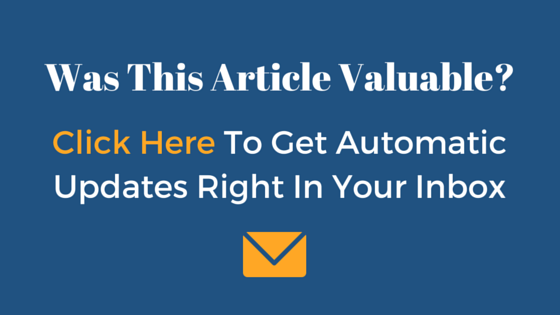 The Mining Industry In The U.S. Just Concluded Its Safest Year Ever
Preliminary statistics released by MSHA the afternoon of Thursday, April 7 show that 2015 was the safest year ever in the U.S. mining industry. This closely mirrors the fatality analysis I conducted earlier this year. Mining deaths are down across the board and have been trending that way for decades.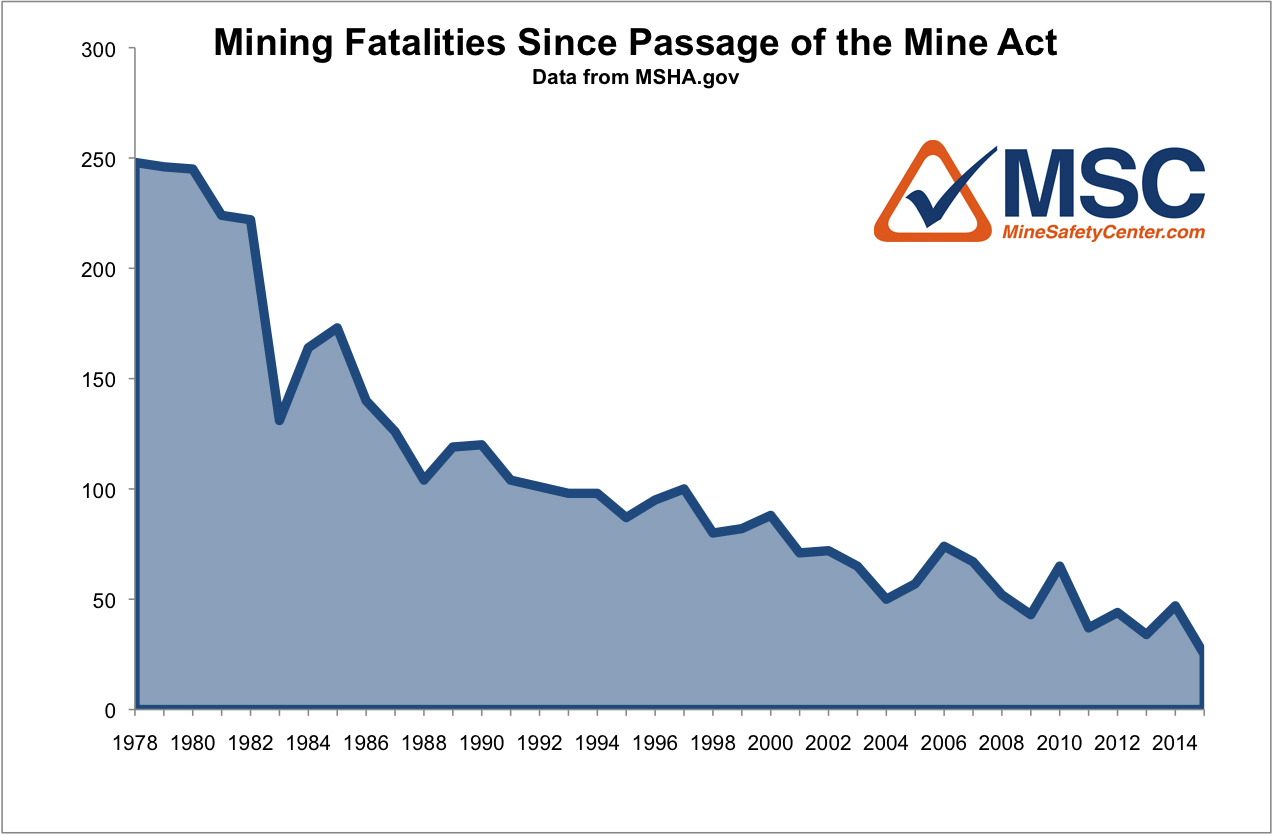 "In 2015, 28 miners died in mining accidents, down from 45 in 2014," says Amy Louviere, MSHA's media contact, in the press release.
But the announcement also released more granular data for 2015 than was previously available. This data allows an in depth analysis of the injury rate and total number of injuries. Ms. Louviere continued:
These rates are calculated based on hours of miners' exposure, a relative measure taking into account recent employment changes in the mining market. The fatal injury rate, expressed as reported injuries per 200,000 hours worked, was the lowest in mining history for all mining at 0.0096.
Take a look at the progress on this key statistic over the last few years: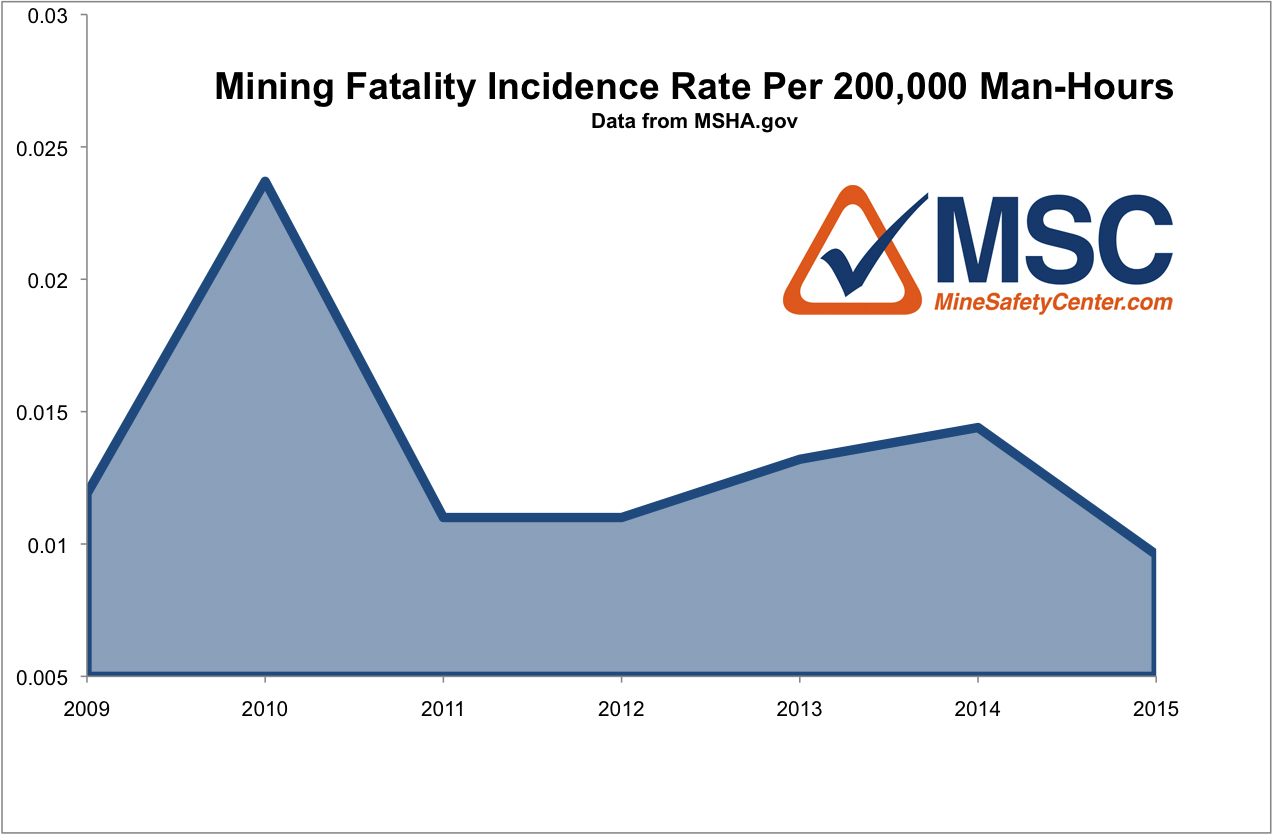 Mining Industry Injuries Down
But even more impressively, the mining injury incidence rate (again per 200,000 man-hours) dropped significantly. According to Ms. Louviere, "the all-injury rate – reported by mine operators – also dropped to a new low in 2015 at 2.28."
Not only are less injuries leading to fatalities, there were also less injuries. Period.
Look at the trend over the last few years. This is outstanding progress: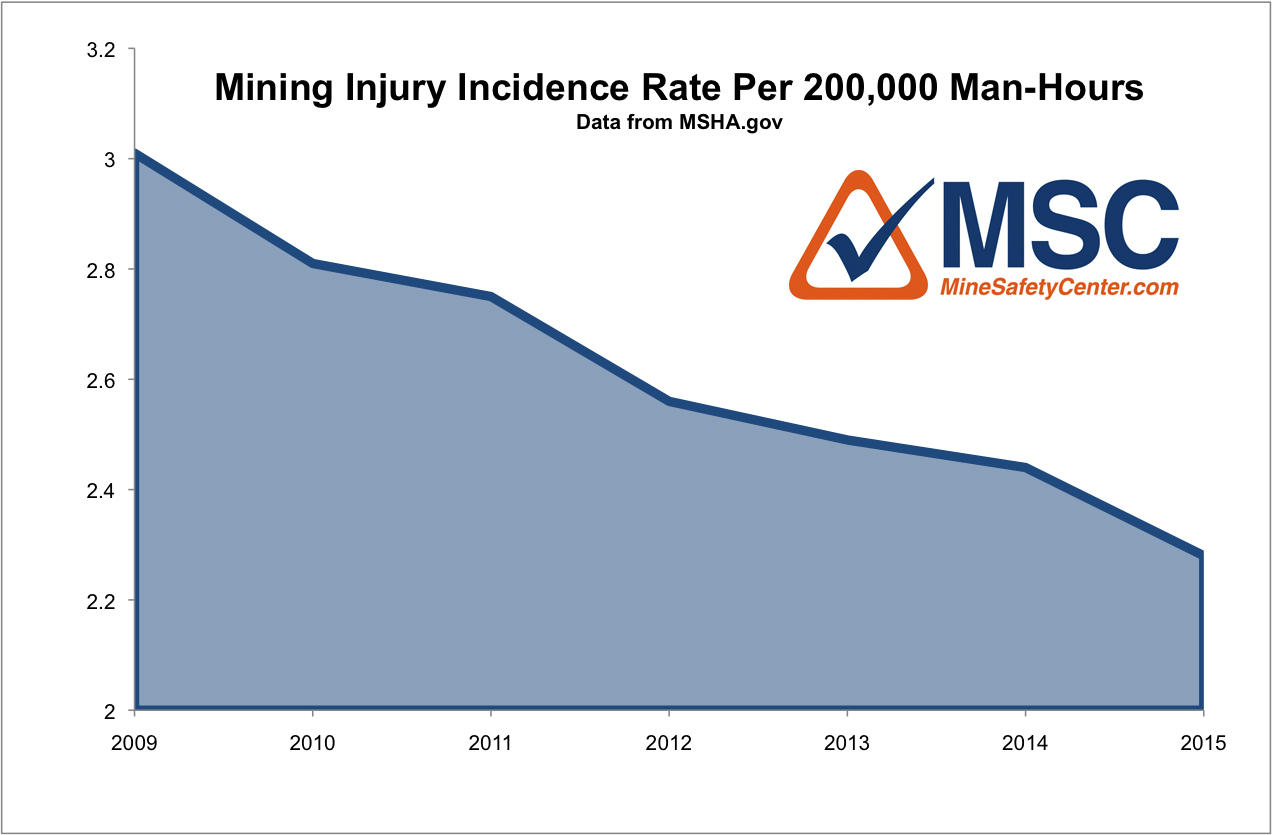 The injury incidence rate is down 25% since 2009.
What does the injury rate translate to in actual numbers? After consulting this very cool incidence rate calculator (and brushing up on a little Algebra) I was able to figure out the total number of hours worked and injuries.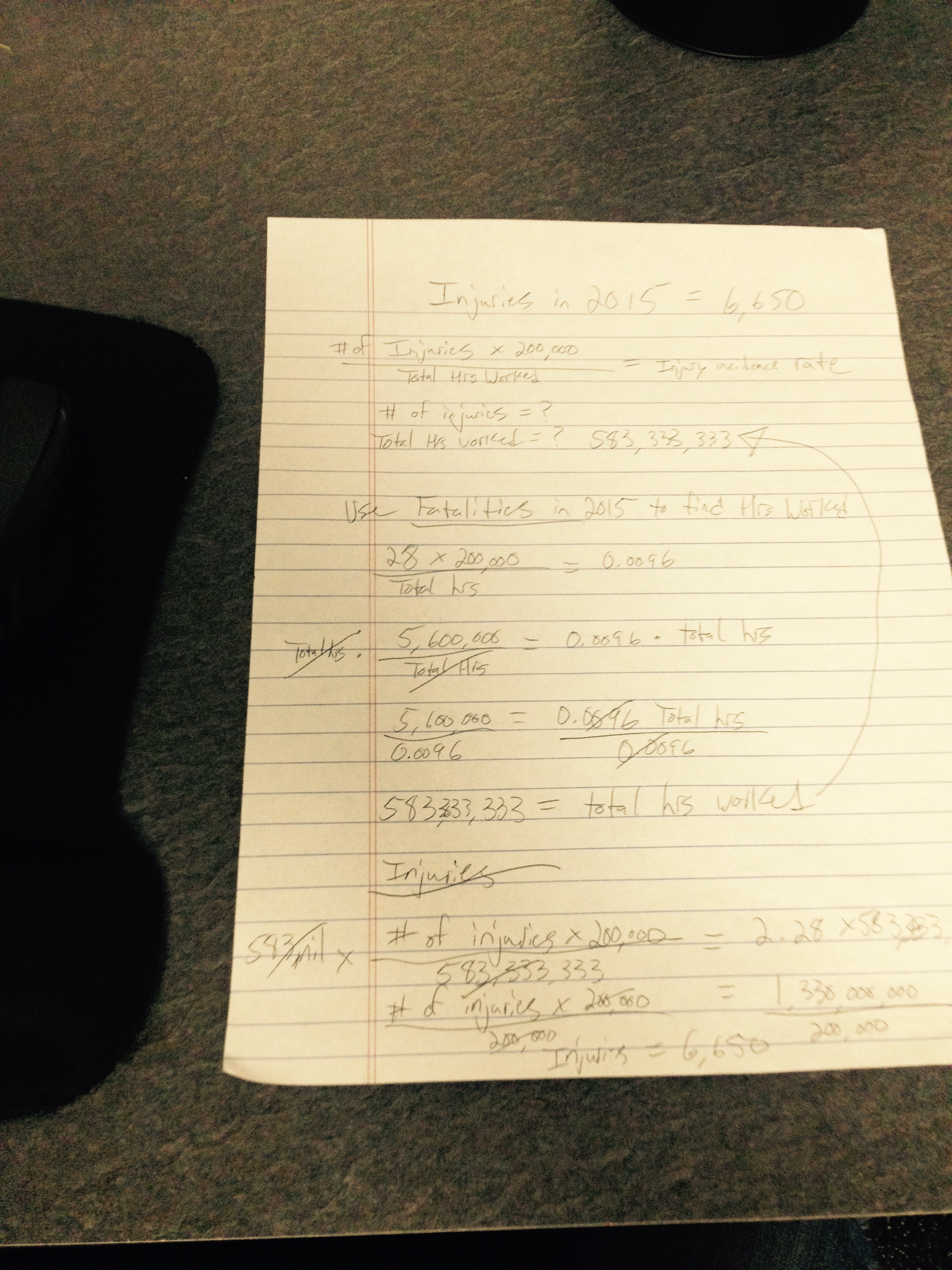 The mining industry combined for a total of 583.3 million man-hours in 2015. During that time, 6,650 total injuries occurred. Again, this number of injuries is a significant drop off. So while man-hours were down 7% from 2014 to 2015, the number of injuries dropped an impressive 13%.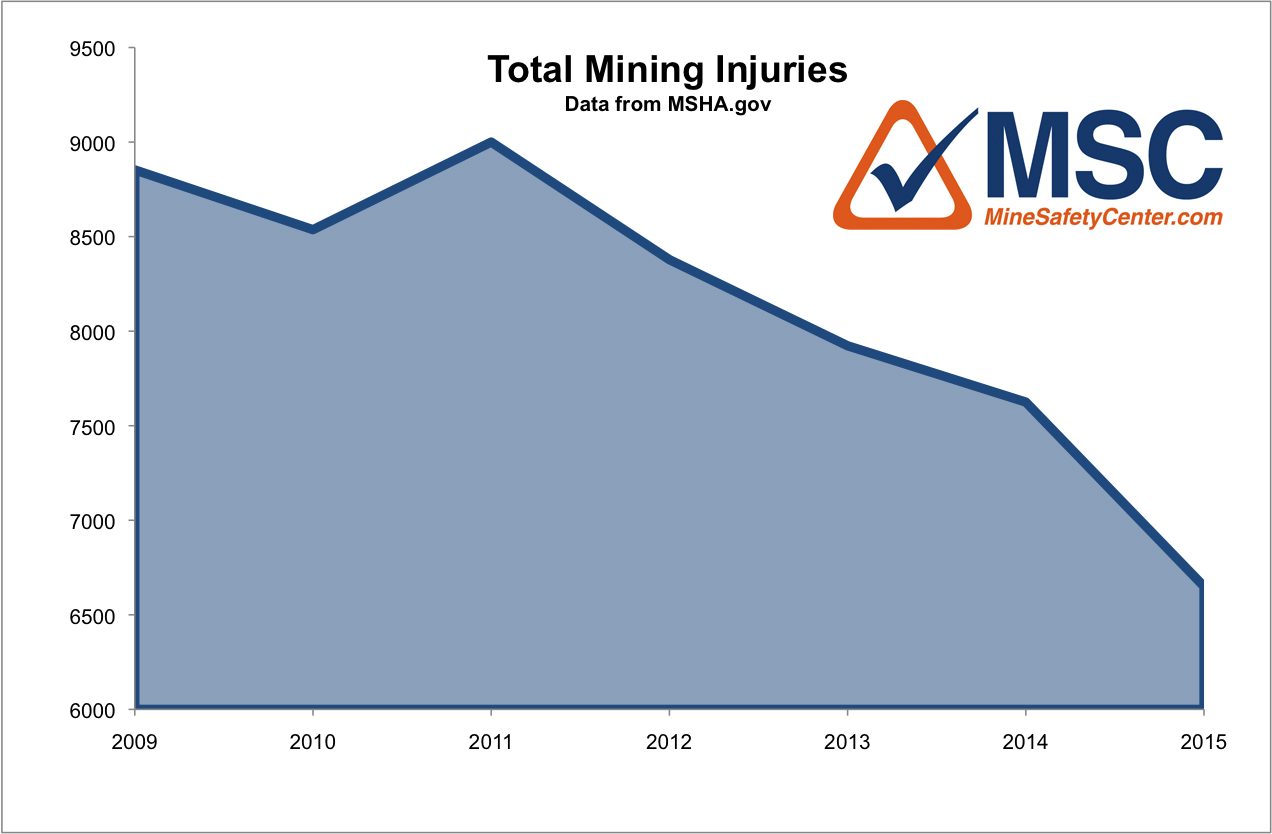 Mining Industry Contractor Safety
Contractor fatalities were also down. In 2015, 8 contractors lost their lives compared to 12 in 2014. Obviously, a single loss of life is too many but a downward trend is great news. Unfortunately, MSHA doesn't release the Total Injury Rate for Contractors.
The spike in overall fatalities and particularly contractors caused MSHA to declare a surge in the M/NM sector. These trends are promising but don't look for MSHA to pull back their enforcement any time this year.
"The progress we made in 2015 is good news for miners and the mining industry. It is the result of intensive efforts by MSHA and its stakeholders that have led to mine site compliance improvements, a reduction of chronic violators, historic low levels of respirable coal dust and silica, and a record low number of mining deaths," said Joe Main, assistant Secretary of Labor for Mine Safety and Health.
In other words, expect MSHA to continue their recent uptick in enforcement and inspections across the mining industry.
MSHA Fines Down
There is also another surprising piece of information in the article that could potentially be overlooked. The amount of MSHA fines is trending down. MSHA doesn't count contested fines in these statistics which leads to artificially low numbers (MSHA reported $62.3 million collected for 2015, a giant drop from the $95 million average in 2013 and 2014.) So as cases wrap up, the total for 2015 will increase. But even if we throw out the artificially low 2015 numbers, the trend is still there. Even with this drop, MSHA inspectors still have a few tricks they like to try.
The most MSHA fines collected in a year occurred in 2010 with $162.8 million dollars. But since 2012, the trend has been decidedly downward.
This is good news for an industry that has had a very hard year. Safer mines and fewer fines? That's something the mining industry and MSHA can both get behind.
Let's work towards continuing both trends in 2016.

How To Avoid The 5 Most Cited MSHA Standards of 2015
Ever finish a Mine Safety and Health Administration (MSHA) inspection with your head spinning? You feel confident when the inspector arrives. Then the notepad comes out. Did the experience leave you with questions? Saying to yourself "How did we get hit for those MSHA standards? We run a good operation. How did we get so many fines?"
Obviously, MSHA citations are costly. But on top of the financial penalty, there are more subtle costs. Unlike money spent on training or workplace safety improvements that can prevent citations, MSHA fines aren't tax deductible. MSHA citations also cost your company man-hours through additional inspections and time spent contesting the tickets. Finally, S&S citations affect your POV status, which can lead to even more fines if MSHA determines you have a Pattern of Violations.
Knowing where MSHA inspectors are looking, what they're looking for and what they're citing is valuable information. This information can give your team a path to go above and beyond your standard work safety and inspection procedures in targeted, high value areas.
That's why I took a deep dive in the data provided on MSHA.gov. Let's examine which Metal Non-Metal (M/NM) MSHA standards were cited most in 2015 and compare them to 2014. We can begin to see where MSHA is devoting their time and resources.
Spoiler: It doesn't always match their many enforcement announcements. I know, you're shocked.
The Most Cited M/NM MSHA Standards of 2015
MSHA citations at M/NM locations were essentially flat from 2014 to 2015. In 2014 there were 60,155 M/NM MSHA citations and 60,075 in 2015, a decrease of 0.01%. What were the top 5 most cited MSHA standards in 2015?
As you can see, Guarding and Damaged Electrical Conductors are far in front of the pack. That's even more apparent when we look at the Top 15 standards in the next graph.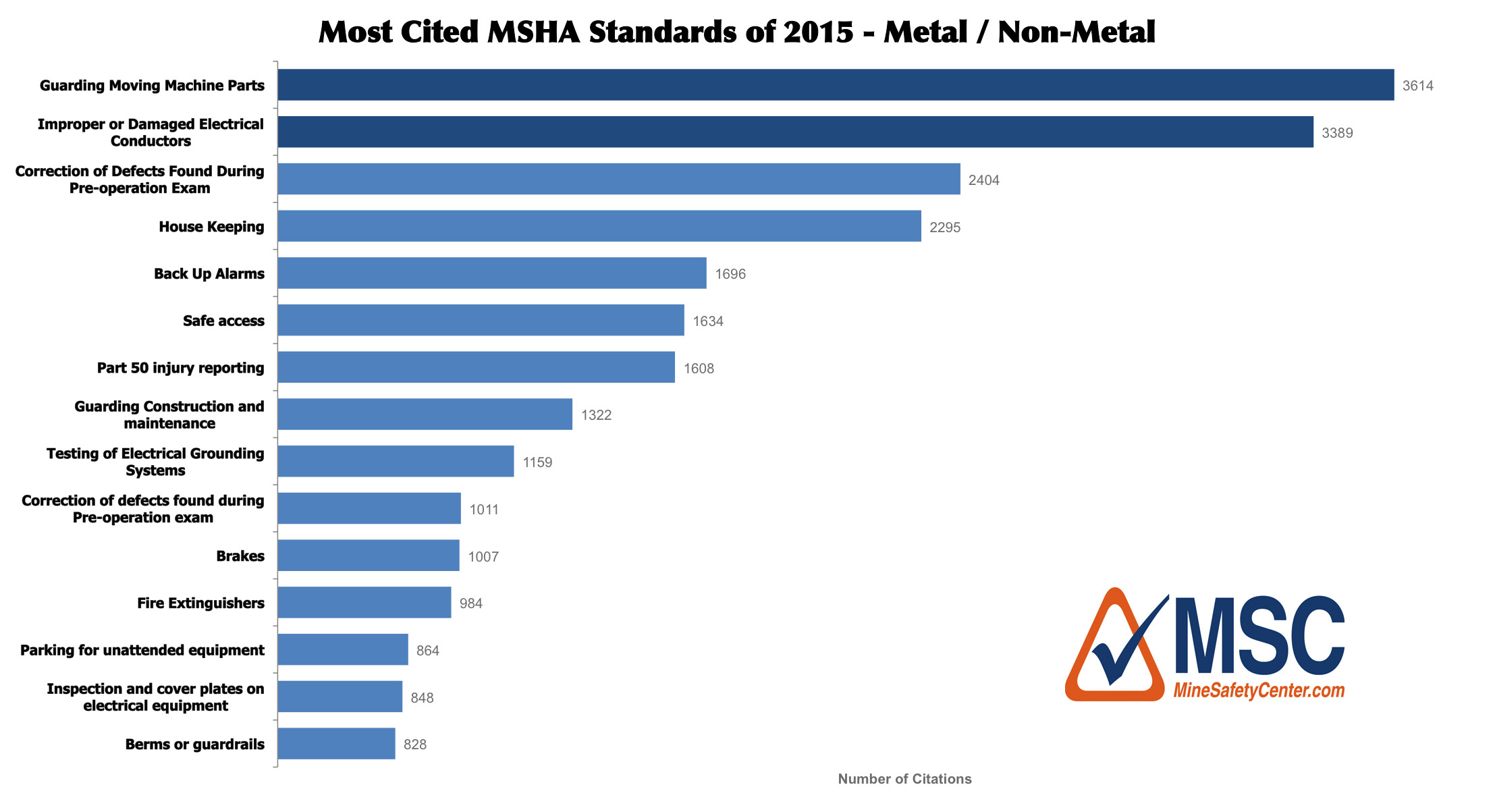 The 5 most cited MSHA Standards accounted for over 23% of all M/NM violations in 2015 and 22.8% in 2014. The 2 most cited MSHA standards accounted for 12% of all tickets written in 2015, more numbers 10 through 15 combined (11%). Focusing resources to improve your compliance is an efficient way to reduce your MSHA fine exposure.
How Do The Most Cited MSHA Standards of 2015 Compare to 2014?
There was only one change in the top 5 from 2014 to 2015. Part 50 injury reporting was replaced by house keeping in 2015. The number of Part 50 citations decreasing is an interesting development considering MSHA announced an increased emphasis on Part 50 reporting.
[infogram id="msha_fines_2014_v_2015″ prefix="yZk"]
How Can You Reduce Your Risk of Fines for These MSHA Standards? Let's go through the standards one by one.
5. Back Up Alarms – MSHA standard 56.14132(a)
Manually operated horns or other audible warning devices provided on self-propelled mobile equipment as a safety feature shall be maintained in functional condition.
MSHA regulations require back up alarms are functional and must "be heard above the surrounding noise." That phrase is very subjective and open to interpretation by the inspector. What one inspector would let go another may not. This is where most citations for this MSHA standard are written.
If a back up alarm isn't operational, by law you can have a spotter as a substitute and still use that vehicle. But the spotter must be with the vehicle the whole time it's in use. Not a very practical option and certainly not an efficient use of resources.
Back up alarms can cause complacency. We hear them all day long. It can become just another noise in the background. For example in 2004, 14 people were killed in Washington State backing accidents. The back up alarm was fully functional in every incident. The situation was so serious the state legislature passed an emergency law requiring all trucks dumping on construction sites to have spotters.
"The CDL test advocates that over the road trucks should try to minimize backing up, because of blind spots, and potential to hit something or someone," said former MSHA inspector and Mine Health & Safety consultant Kim Redding. "The best practice to prevent backing incidents and citations is to set up your whole operation so there's little or no need to back up. Obviously this is impractical or prohibitively expensive for some."
He continued, "If this option isn't available, make the danger of backing top of mind at your company. Backing is one of the largest causes of injuries and damaged equipment. Everyone on your site should know and understand they shouldn't back up unless absolutely necessary."
4.     House Keeping – MSHA standard 56.20003(a)
Workplaces, passageways, storerooms, and service rooms shall be kept clean and orderly.
This is a very broad standard. You can get a ticket for a disorganized workshop, a messy vehicle cab, even a dirty microwave. Spilled materials are commonly cited under 56.20003(a). Any dust or silica build up can be seen as a trip hazard.
"When I was an MSHA inspector I saw poor housekeeping as a red flag," said Kim Redding. "If you can't do the simple things like cleaning up your work place, it's more likely the big things won't be done either."
A clean work environment makes your company safer and more productive. Potential hazards easier for your company to spot and fix immediately when an area is clean and organized. As Jamie Ross of Mining Man puts it "don't leave a trap for somebody else." As you walk around your site, take a look for areas that could be tidied up.
Putting an emphasis on house keeping is a simple way to quickly make a site safer and more MSHA compliant. Employees don't waste time looking for tools and equipment in an orderly shop.
3. Timely Correction of Defects Found in Pre-Operation Exam – MSHA standard 56.14100(b)
Defects on any equipment, machinery, and tools that affect workplace safety shall be corrected in a timely manner to prevent the creation of a hazard to persons.
Complying with 56.14100(b) should be straightforward but MSHA has a curveball. Even if you fix a defect you can still get a citation. How? As top mining attorney Mike Heenan said in a great interview with Pit & Quarry, "too often, operators only write down what the problem was, so you have a list of problems without a list of solutions. Maybe the operator has fixed those problems listed, but they might not write that down. You have to finish up the story in writing." In this situation, some inspectors will write a citation, others may not. It's up to your operation to take away the opportunity for a ticket.
2. Improper or Damaged Electrical Conductors – MSHA standard 56.12004
Electrical conductors shall be of a sufficient size and current-carrying capacity to ensure that a rise in temperature resulting from normal operations will not damage the insulating materials. Electrical conductors exposed to mechanical damage shall be protected.
A thorough workplace exam is essential to compliance with 56.12004. Many conductors are exposed to weather, impact, vibration, abrasion, and heat. Inspection of electrical conductors must always be a part of workplace examinations. Schedule inspections on a regular basis for areas of your operation that are less frequently traveled.
If anyone discovers a violation it must be dealt with right away. Many times a health and safety hazard can become part of the workplace if it's noticed but left uncorrected. It's human nature. That's how hazards don't get fixed and become violations.
1.     Guarding Moving Machine Parts – MSHA standard 56.14107(a)
Moving machine parts shall be guarded to protect persons from contacting gears, sprockets, chains, drive, head, tail, and take-up pulleys, flywheels, couplings, shafts, fan blades, and similar moving parts that can cause injury.
Guarding is by far the most cited MSHA standard and it's been that way every year for the past decade. Don't expect that to change in 2016, especially since the first fatality this year was a person killed when they got caught in a conveyor.
There is a clear history of inconsistent enforcement of MSHA regulations. Guarding is particularly hit or miss because the standard is extremely subjective. One inspector may cite you for an area that another inspector has approved for years.
In his interview with Pit & Quarry, Mike Heenan remarked, "It's amazing to me in all these years that machine guards continue to be up there with other violations. It's been my contention for a long time that MSHA should spend less time finding citations and instead finding more important things in Rules to Live By."
"Many times I'll tell operators their guarding isn't MSHA compliant," Kim explains "and they say 'There's no way, these are factory guards!' Just because the guards came from the factory doesn't mean they're MSHA compliant. The factory builds on spec. If you don't specify you want something guarded, they won't do it. They're a business that needs to keep their margins up just like you. On top of that, MSHA won't cite the manufacturer for the violation. It's your job as a mine operator to request MSHA compliant guarding."
The best way to protect workers and reduce your risk of citations is to guard all moving machine parts. That includes bolt heads, key ways, couplers, everything. Box in every moving part, everything, so no one can touch, get near a moving part or in a restricted area. MSHA inspectors can and will contort their bodies to show there is a "possibility" someone could be injured.
In the most basic terms, the potential for an MSHA citation exists if an adult sized toddler could touch anything dangerous.
Key Takeaways – Health and Safety at Work
There is a definite trend in the most cited MSHA standards.  Nearly all of the rules are open to interpretation. Every MSHA inspector is different and you may have 2 inspectors interpret the rules in completely different ways.  You can either leave it to the luck of the draw or be proactive and engineer your operation so there's no opportunity for an inspector to cite you. But you have to make that decision for yourself and your company.
Because they're cited so much more often, you can get the most return on your investment by aggressively focusing your compliance efforts on the top 5 MSHA standards above.
Sign up for more MSHA tips and updates.

 
MSHA Safety Enforcement Alert Announces Vague Initiative
After last week's serious incident, today brings another MSHA safety enforcement announcement and boy is it broad. MSHA's M/NM Administrator Neal Merrifield begins the announcement:
Since 2011, 16 metal and nonmetal miners have died in accidents involving machinery and non-haulage mobile and quarry equipment, and many more have been seriously injured or disabled.  Of the 16 persons fatally injured, six were supervisors and three were contractors.  Seven miners died when they were struck by the equipment they or a co-worker were operating, four miners drowned when their equipment ran into or overturned into water, and five more died when they were caught in crushers, on drill steel or between reciprocating machinery.  The equipment involved represented a wide variety of mining equipment: drills, dozers, excavators, graders, dredges and crushers… MSHA plans again this month to continue walk and talks at mine sites and again enlist the partnership of mines, miners and mining industry groups in the effort to raise safety consciousness.
I'll repeat that, "drills, dozers, excavators, graders, dredges, and crushers." MSHA is essentially announcing close inspections of all machinery and equipment used in the process of mining. Their stated purpose is admirable as always, but you have to consider MSHA's previous methods of "raising awareness."  Recent history tells us it will likely involve increased inspections, citations, and fines.
This is the 5th announcement of increased MSHA safety enforcement in just the past few months. MSHA has announced an enforcement "surge" on M/NM mines which includes transferring inspectors from coal to M/NM, an emphasis on confined spaces and Lock Out, Tag Out, Try Out procedures, and Part 50 injury reporting. They have also been given funding to hire more MSHA inspectors.
Merrifield goes on to offer some best practices:
MSHA standards require operators to maintain control of mobile equipment while it is in motion, and to operate at speeds consistent with conditions of mine roadways, tracks, grades, clearance, visibility and traffic.  When mobile equipment is not in motion, it must be stopped in a safe location and when not attended, parked in a manner that prevents it from moving and becoming a hazard to the operator or other miners.  In addition, mine supervisors and equipment operators need to continuously monitor and maintain roadways and berms and operate mobile equipment in a controlled, safe manner.  When operating excavators, position the as far from the water's edge as feasible on firm, stable ground.  Don't traverse unstable ground above a highwall and stay off and away from over-steepened stockpiles until they can be made safe.
You can download today's Machinery and Equipment Hazards Alert here.
Considering the number of recent MSHA safety enforcement alerts, 2016 is going to be a very busy year for mine managers, safety professionals, and mine contractors. Prepare your company for MSHA compliance in 2016. MSC expert and  Ex-MSHA inspector, Kim Redding, has a free MSHA compliance video series.  Learn MSHA tips from a former MSHA inspector.

MSHA Part 46 Online Training Saved This Busy Contractor's Time
Bill McCasey of Swan Electric, Inc. needed MSHA Part 46 Online Training as soon as possible for a job. But they needed a flexible training schedule to avoid shutting down their main business. Swan's manager decided that online training was the fastest, most affordable way to fulfill their training obligations.
Swan needed their MSHA Part 46 online training company to meet 5 requirements:
24/7 access to training that could be done on their schedule
Assistance with MSHA's complex paperwork
Trustworthy, high quality training
Management tools to ensure all their employees finished the training on time
The best value for their money
After thoroughly researching their options, Swan decided the Mine Safety Center's online Part 46 training met all their needs. Why?
Training was available 24/7 to all Swan Electric employees, anywhere with an Internet connection. They could sign up a new employee in less than 5 minutes and start their training any time. Their employees could even stop and start modules as needed. Through MSC's management reporting tools Bill was also able to remotely track his employee's progress to make sure they completed the training on time.
Bill and his employees also took advantage of MSC's Free Automated MSHA Training Certificates. When each employee finished their course, the system automatically completed nearly all of the necessary paperwork and provides employers with electronic training records. This dramatically reduces the opportunity for human error and the MSHA fines that can result.
Bill knew the training covered all the necessary topics to safely be in site and meet requirements because the training was designed by Kim Redding, a former MSHA inspector and top mine safety consultant.
Swan Electric was able to fulfill all of MSHA's part 46 training requirements quickly with zero downtime and correct paperwork.

Lock Out Tag Out Procedures Will See Heightened Emphasis from MSHA in 2016
Lock Out Tag Out procedures have been an essential part of mine safety for years. This morning, Neal Merrifield of MSHA took the opportunity to reiterate "how important it is to develop and implement an effective mine-specific Lock – Tag – Try program."
He goes on to say, "since 2005, 28 metal and nonmetal miners have died in accidents in which electrical power was not disconnected and locked out or other energy sources were not controlled before work was begun on power circuits or mechanical equipment."
"MSHA standards require that before working on electrical circuits, power must be disconnected, switches locked out and warning notices posted and signed by those performing the work. In addition, power to machinery or equipment must be off and the machinery or equipment blocked against hazardous motion before beginning repairs or maintenance."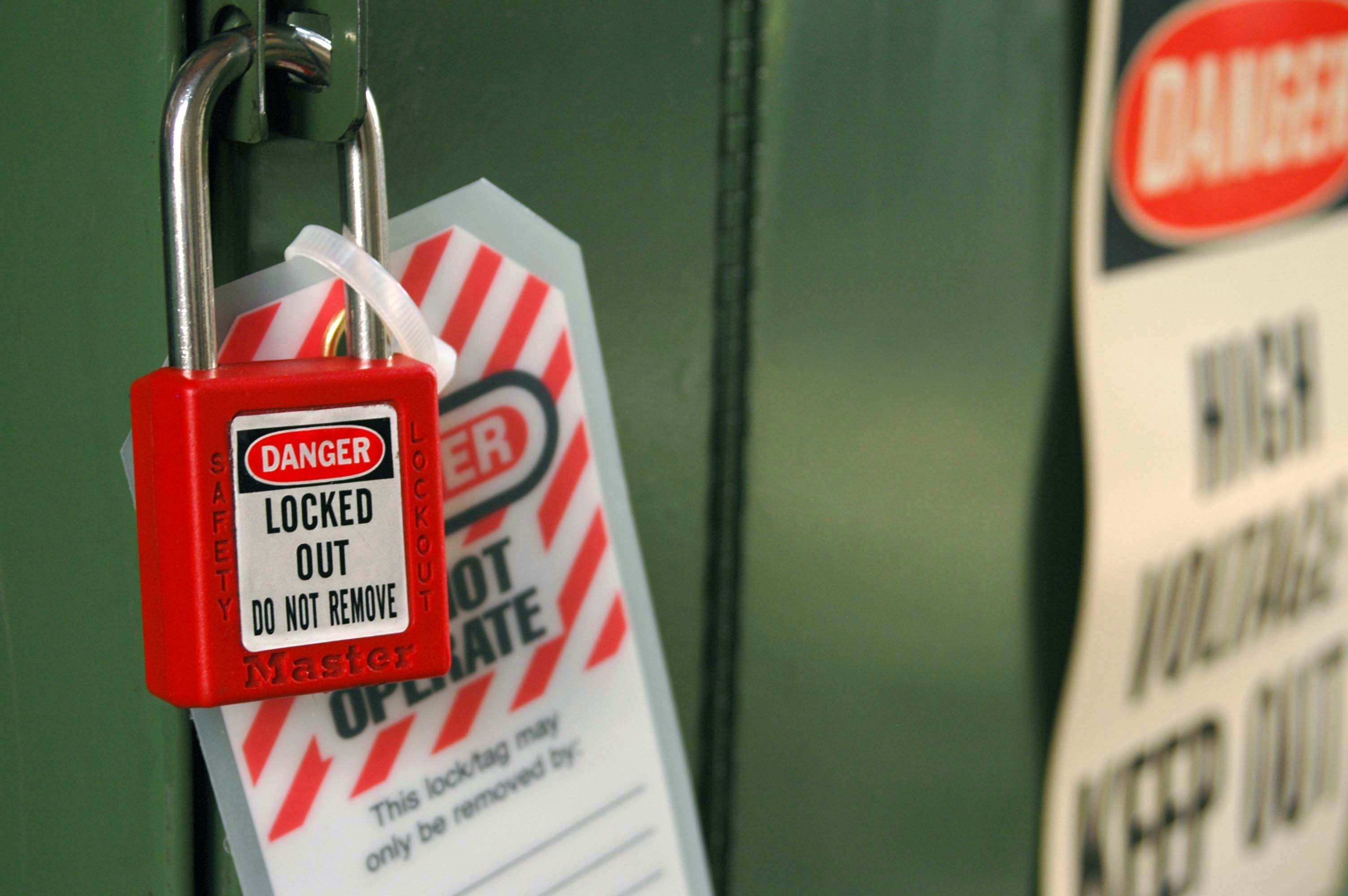 Expect Increased Lock Out Tag Out Try Out Enforcement
"MSHA will stress the importance of concentrating on effective lockout procedures by focusing additional resources on increased enforcement and education and outreach, including walk-and-talks….Metal and Nonmetal inspectors and Educational Field and Small Mines Services personnel will be visiting mines, discussing safe work practices with miners and reminding everyone to maintain their focus on safety."
Lock Out Tag Out Procedures Must be in Your Standard Operating Procedures.
Lock Out Tag Out Procedures should really be known as Lock Out Tag Out Try Out. No machine is truly tagged out until you have tried to turn it on and nothing happens. MSHA is re-emphasizing their effort to make sure every person on a mine tries out a machine before they consider it safe to conduct work. Lock Out Tag Out Try Out should be an integral part of every company's standard operating procedures.
What This Means For 2016
As we all know, MSHA is much more inclined to increase enforcement and fines than to educate. I've discussed MSHA's inclination to attribute decreased fatalities with the recent increase in fines.
Review your Lock Out Tag Out Try Out procedures. Do they need updating? Now would be a great time to focus a morning safety meeting or toolbox talk on LOTOTO.
Make sure you emphasize Lock Out Tag Out Try Out in your MSHA training this year.
Stay safe everyone.


MSHA Confined Space Enforcement To Increase Dramatically
I just received an alert on MSHA confined space enforcement that needed to be passed along. Due to recent serious injuries and fatalities MSHA will be "placing special emphasis on enforcing its standards related to entering bins, hoppers, silos, tanks, and surge piles… by focusing additional resources on increased enforcement attention, education and outreach, including walk-and-talks," said Neal Merrifield.
This MSHA confined space enforcement emphasis is just the latest in a long line of MSHA attempts to increase mine safety through fines and enforcement. The mining community needs to prepare for the imminent increase in MSHA enforcement. To help mines and mine contractors get ready and keep workers safe we're offering our full Intro to MSHA Confined Space training for free.

The following is the full letter regarding the MSHA Confined Space Entry Alert from MSHA M/NM Administrator Neal Merrifield. All emphasis is added.
Unsafe work in confined spaces has led to miner deaths and injuries in the metal and
nonmetal mining industry. Recent tragic incidents include: a fatality while cleaning the
inside of a tanker railcar and a miner being severely burned during maintenance inside
a baghouse screw conveyor hopper. To address these regrettable occurrences and
help prevent similar instances in the future, MSHA will be placing special emphasis on
enforcing its standards related to entering bins, hoppers, silos, tanks, and surge piles.
MSHA and the Industrial Minerals Association-North America (IMA-NA) have engaged
the issue of confined spaces as a project within the Alliance between the two
organizations. We recommend conducting a hazard assessment and implementing a
permitting system as part of a safe entry standard operating procedure (SOP).
Many mining and milling workplaces contain areas that are considered "confined
spaces" because, while they are not necessarily designed for people, they are large
enough for workers to enter and perform certain jobs. A confined space also has limited
or restricted means for entry or exit and is not designed for continuous occupancy.
Confined spaces include, but are not limited to, tanks, vessels, silos, storage bins,
hoppers, vaults, pits, manholes, tunnels, equipment housings, ductwork, pipelines, etc.
Metal and Nonmetal (MNM) regulations related to confined space that MSHA enforces
include: 30 CFR §§56/57.5001(a); 30 CFR §§56/57.5002; 30 CFR §§56/57.5005(c);
30 CFR §57.5015; 30 CFR §§56/57.14105; 30 CFR §§56/57.15005; and
30 CFR §§56/57.16002.
These standards regulate hazardous atmospheres; material that has the potential to
engulf an entrant; walls that converge inward or floors that slope downward and taper
into a smaller area which could trap or asphyxiate an entrant; and any other recognized
safety or health hazard, such as unguarded machinery, exposed live electrical wires, or
high heat.
Because confined spaces are potentially dangerous, employers should evaluate all
confined spaces in which their employees work to determine whether hazards exist or
whether the work to be done in the space can create hazards. MSHA will place special
emphasis on confined spaces over the next several months by focusing additional
resources on increased enforcement attention, education and outreach, including walk-
and-talks. We are encouraging the mining industry to do the same. MSHA will provide
the mining industry with additional information on the importance of having an effective
MSHA Confined Space Entry program. Please make sure that information gets distributed.
MNM inspectors, joined by Coal inspectors and Educational Field and Small Mines
Services personnel will be visiting mines, calling attention to these potentially hazardous
conditions and discussing safe work practices with miners. Please join MSHA and
IMA-NA in this special safety outreach and help us spread the word to the miners at
your operations. This is the time to be proactive. Assure that an effective Confined
Space Entry program is implemented, that miners are trained on program specifics and
are task trained to recognize and avoid hazards, so they can go home safe and healthy
at the end of each shift.
A link follows to an MSHA Confined Space Entry Alert recently published on MSHA's website:
http://www.msha.gov/Alerts/confined-space-entry-ha1109.pdf. Also, for more
information on the confined space mining deaths that have occurred since October 2013 and
Please use the photos and descriptions to prompt discussions about fatalities and how to prevent them.
MSHA Part 50 Compliance Will Be Heavily Scrutinized
MSHA Part 50 enforcement will be significantly increased starting today. In a previous blog we discussed how MSHA will increase the number of inspectors and inspections at metal/non-metal mines with a heightened focus on smaller "mom and pop" mines.
In recent weeks, MSHA Part 50 enforcement of Accident Reporting has also increased. MSHA believes there has been underreporting of accidents and injuries. To back up these claims, inspectors have begun to go through workman's compensation paperwork. If MSHA finds a serious accident that wasn't reported in 15 minutes they will issue a ticket of $5000 to $60,000.
What accidents or injuries fall under the MSHA Part 50 Immediate notification requirement? According to 30 C.F.R. § 50.10 operators "shall immediately contact MSHA at once without delay and within 15 minutes at the toll-free number, 1-800-746-1553, once the operator knows or should know that an accident has occurred involving:
A death of an individual at the mine;
An injury of an individual at the mine which has a reasonable potential to cause death;
An entrapment of an individual at the mine which has a reasonable potential to cause death; or
Any other accident.
The language "any other accident" is ambiguous but MSHA goes on to define an accident as:
A death of an individual at a mine;
An injury to an individual at a mine, which has a reasonable potential to cause death;
An entrapment of an individual for more than 30 minutes or which has a reasonable potential to cause death;
An unplanned inundation of a mine by a liquid or gas;
An unplanned ignition or explosion of gas or dust;
In underground mines, an unplanned fire not extinguished within 10 minutes of discovery; in surface mines and surface areas of underground mines, an unplanned fire not extinguished within 30 minutes of discovery;
An unplanned ignition or explosion of a blasting agent or an explosive;
An unplanned roof fall at or above the anchorage zone in active workings where roof bolts are in use; or, an unplanned roof or rib fall in active workings that impairs ventilation or impedes passage;
A coal or rock outburst that causes withdrawal of miners or which disrupts regular mining activity for more than one hour;
An unstable condition at an impoundment, refuse pile, or culm bank which requires emergency action in order to prevent failure, or which causes individuals to evacuate an area; or, failure of an impoundment, refuse pile, or culm bank;
Damage to hoisting equipment in a shaft or slope which endangers an individual or which interferes with use of the equipment for more than thirty minutes; and
An event at a mine which causes death or bodily injury to an individual not at the mine at the time the event occurs.
Additionally, "injuries not related to one of the twelve types of accidents mentioned in 30 C.F.R. MSHA Part 50 (50.2(h)), such as ordinary sprains, strains, minor cuts, minor burns, bruises or other injuries that are not life-threatening, do not require immediate notification. These types of injuries should be reported via the 7000-1 form under MSHA Part 50 regulations."
What can you do to stay MSHA compliant and protect your company?
First and foremost everyone on your site needs to be prepared. Put standard operating procedures in place and practice those procedures. Everyone on site, including contractors, must know the physical address of the mine so they can call 911 and bring help as soon as possible.
Second, all employees must know the next steps to take in the event of an accident. Do they have first aid training? Do they have a first aid kit? Will they be able to care for someone until paramedics arrive?
Finally, you need to follow regulations and report all accidents as defined by MSHA Part 50 within 15 minutes of their occurrence.
If you have questions regarding accidents you may have had, you can email MSC at sales@minesafetycenter.com or call 602-956-6959 ext. 23. We may be able to help.
Mine Safety Enforcement To Be "Beefed Up"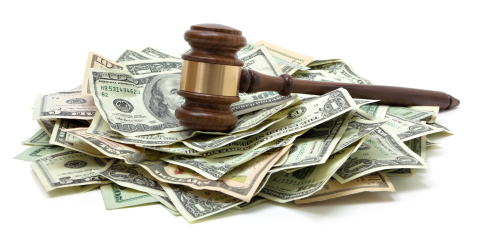 In the wake of five metal / non-metal fatalities in the last three weeks, including 3 on August 3rd, the Mine Safety and Health Administration, or MSHA, announced that inspectors will step up enforcement beginning next week.
During a hastily arranged conference call of stakeholders Wednesday, agency administrator Joe Main lamented the fact that, since October, 2014, 38 miners and 14 contractors have lost their lives at their workplaces.
During the call, MNM administrator Neal Merrifield said that 17 coal inspectors are being switched over to work in the MNM segment. Also, Merrifield has authorized the hiring of an additional 21 inspectors. MSHA also indicated that those mines found to not be following mine safety best practices associated with the standards found to have been relevant in the fatalities will be subject to impact inspections. At the call's conclusion, Main said he realizes that many small mines are involved in the problem. This would indicate a heightened focus on "mom and pop" outfits.
In a letter to the mining community, MSHA's Joe Main said, "To reverse this unacceptable trend, the Mine Safety and Health Administration is stepping up enforcement efforts and intensifying outreach and education throughout the country."
Key points:
MSHA will increase the number of inspectors and inspections at metal/non-metal mines, beginning on 10/1. These will include "walk & talk" meetings with operators and miners.
Heightened focus on smaller "mom and pop" mines
MSHA emphasizes the need for thorough workplace exams each shift that are performed by experienced and trained examiners, per the recent program policy letter.
Inspectors will be closely scrutinizing workplace exam paperwork.
MSHA re-iterates the importance of safety and health programs, per Joe Main's May 21 letter to the mining community.