The Mining Industry In The U.S. Just Concluded Its Safest Year Ever
Preliminary statistics released by MSHA the afternoon of Thursday, April 7 show that 2015 was the safest year ever in the U.S. mining industry. This closely mirrors the fatality analysis I conducted earlier this year. Mining deaths are down across the board and have been trending that way for decades.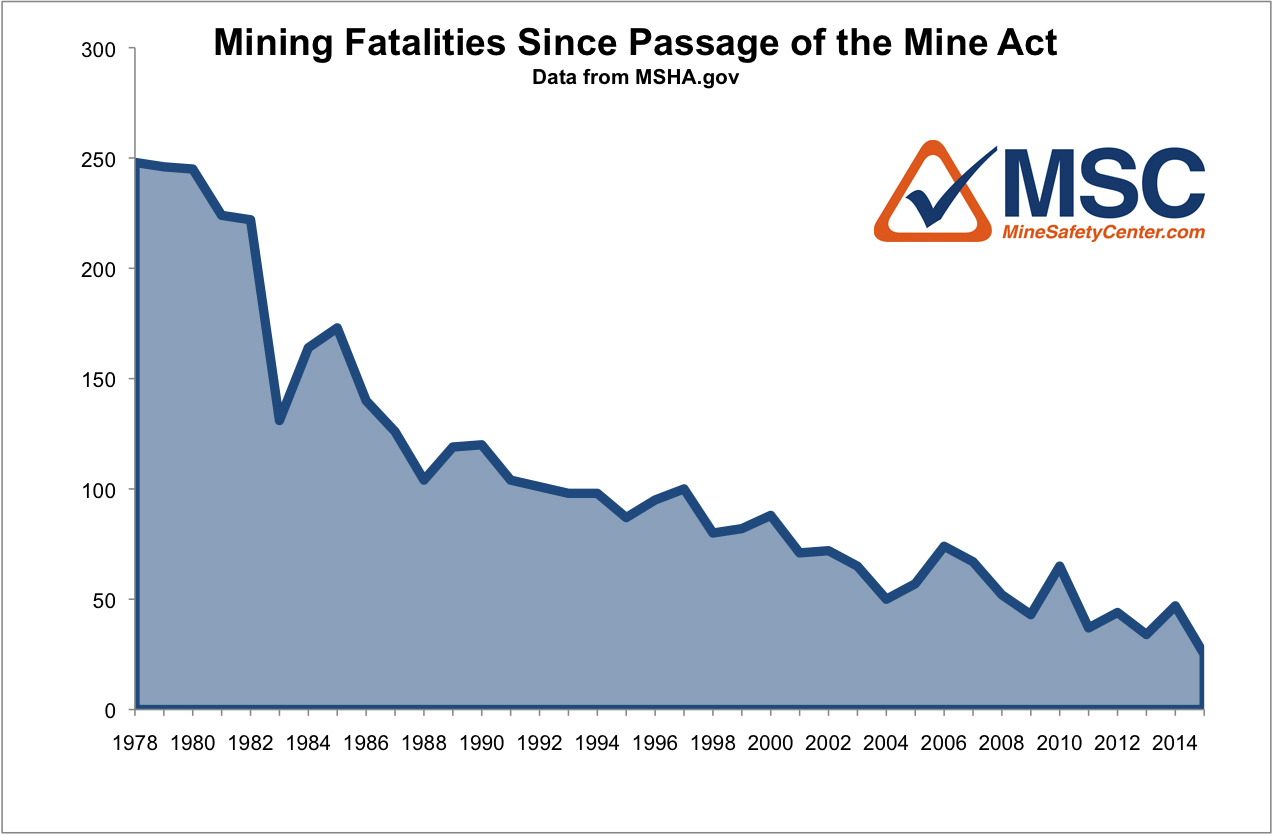 "In 2015, 28 miners died in mining accidents, down from 45 in 2014," says Amy Louviere, MSHA's media contact, in the press release.
But the announcement also released more granular data for 2015 than was previously available. This data allows an in depth analysis of the injury rate and total number of injuries. Ms. Louviere continued:
These rates are calculated based on hours of miners' exposure, a relative measure taking into account recent employment changes in the mining market. The fatal injury rate, expressed as reported injuries per 200,000 hours worked, was the lowest in mining history for all mining at 0.0096.
Take a look at the progress on this key statistic over the last few years: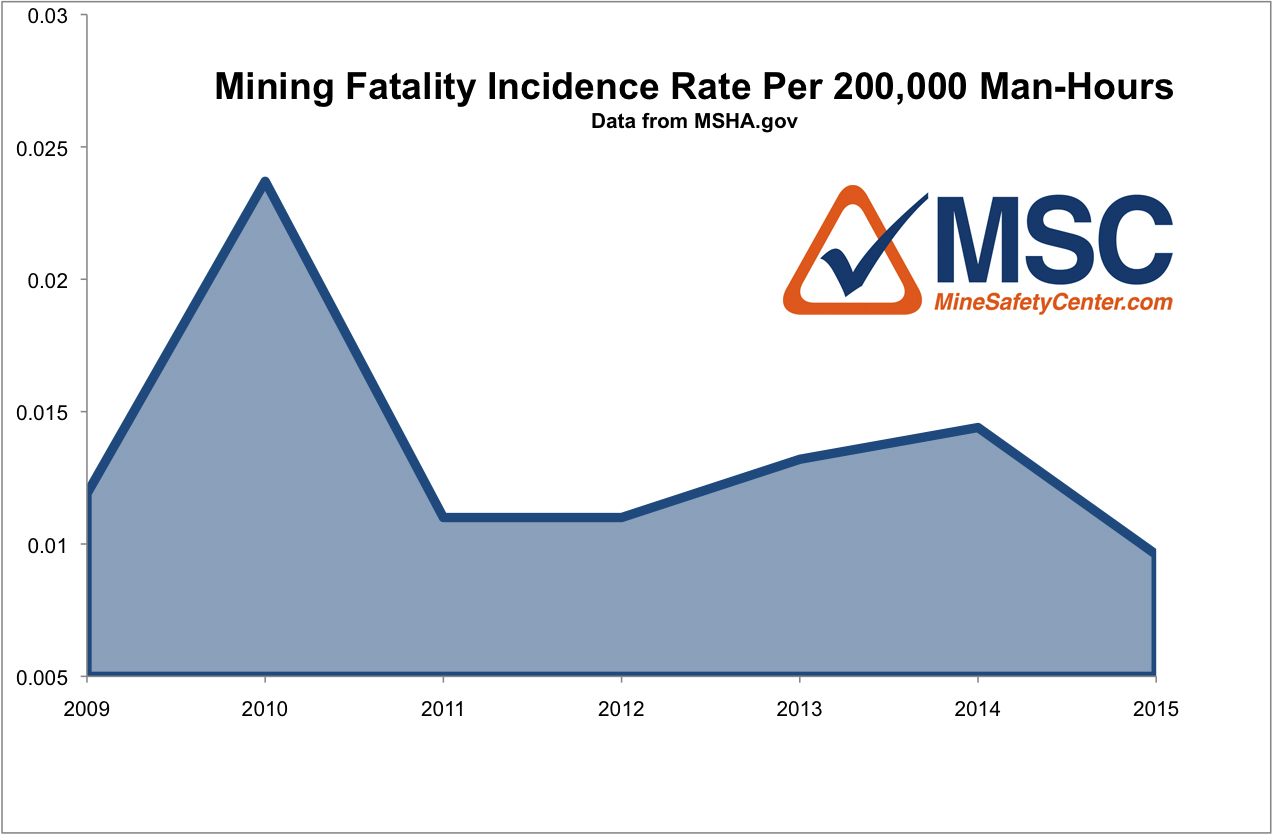 Mining Industry Injuries Down
But even more impressively, the mining injury incidence rate (again per 200,000 man-hours) dropped significantly. According to Ms. Louviere, "the all-injury rate – reported by mine operators – also dropped to a new low in 2015 at 2.28."
Not only are less injuries leading to fatalities, there were also less injuries. Period.
Look at the trend over the last few years. This is outstanding progress: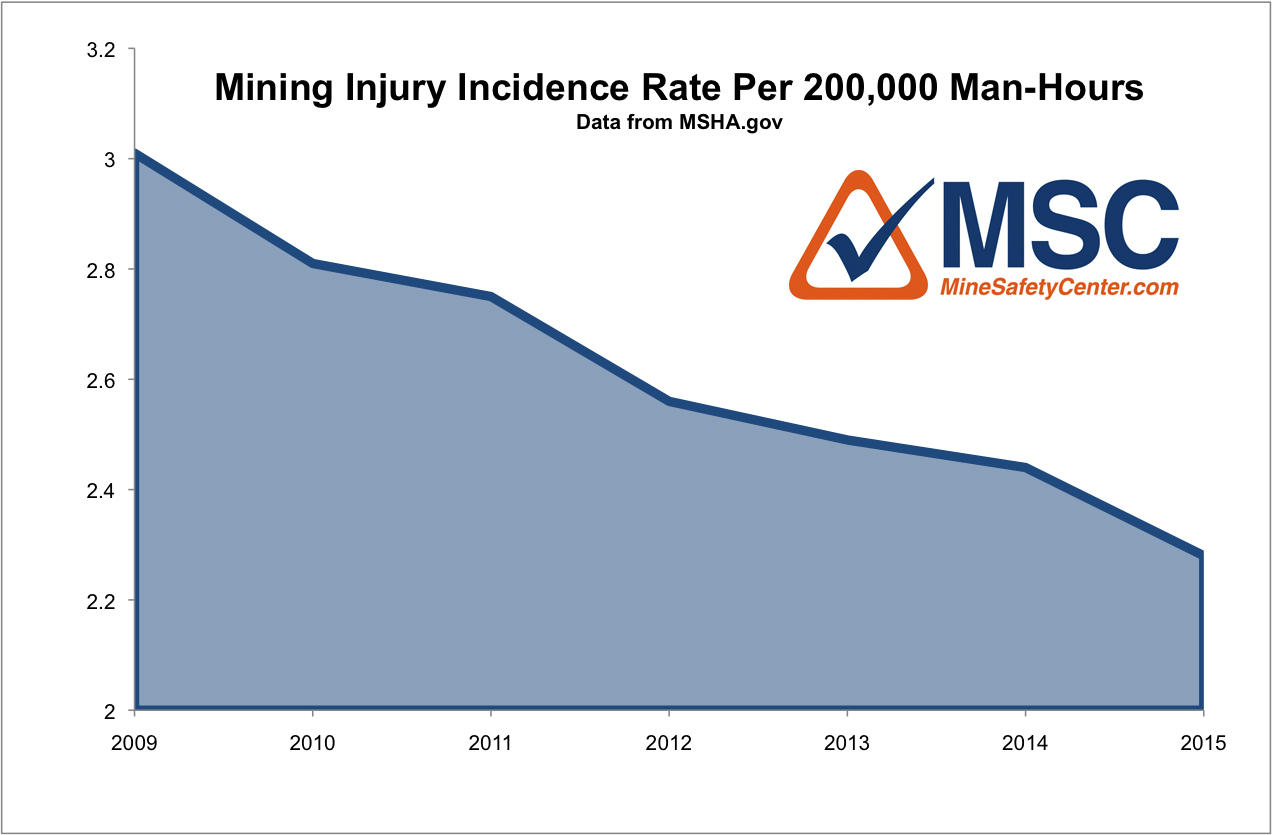 The injury incidence rate is down 25% since 2009.
What does the injury rate translate to in actual numbers? After consulting this very cool incidence rate calculator (and brushing up on a little Algebra) I was able to figure out the total number of hours worked and injuries.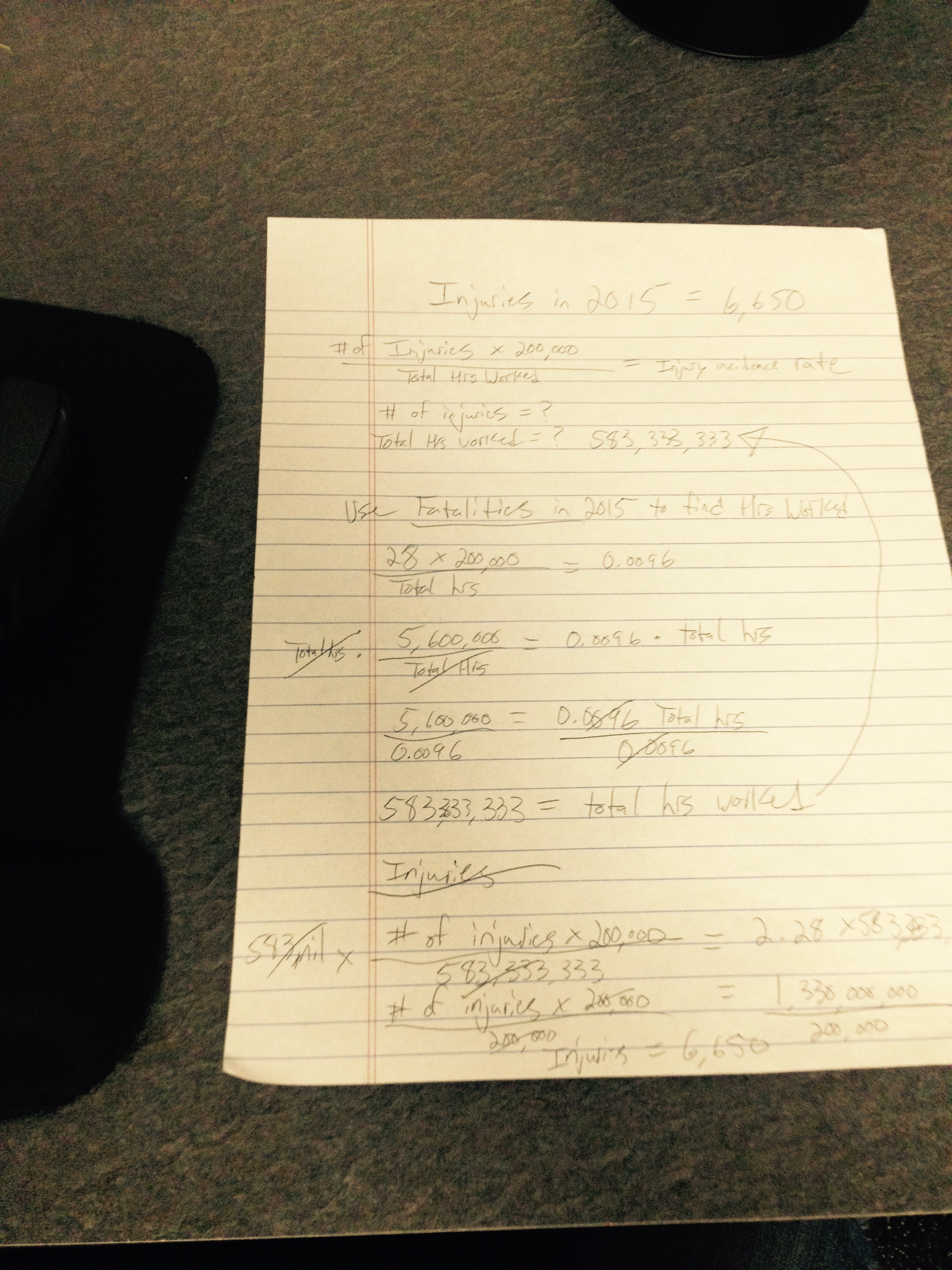 The mining industry combined for a total of 583.3 million man-hours in 2015. During that time, 6,650 total injuries occurred. Again, this number of injuries is a significant drop off. So while man-hours were down 7% from 2014 to 2015, the number of injuries dropped an impressive 13%.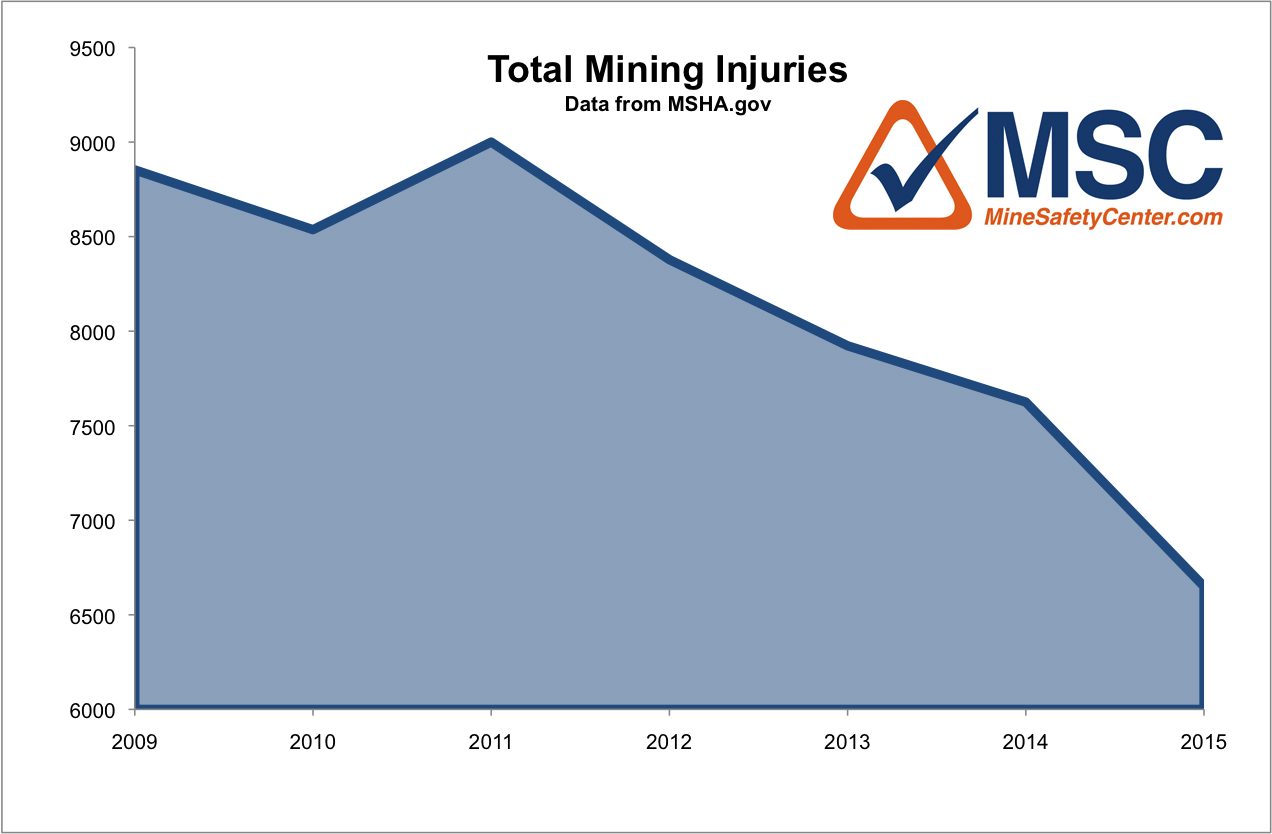 Mining Industry Contractor Safety
Contractor fatalities were also down. In 2015, 8 contractors lost their lives compared to 12 in 2014. Obviously, a single loss of life is too many but a downward trend is great news. Unfortunately, MSHA doesn't release the Total Injury Rate for Contractors.
The spike in overall fatalities and particularly contractors caused MSHA to declare a surge in the M/NM sector. These trends are promising but don't look for MSHA to pull back their enforcement any time this year.
"The progress we made in 2015 is good news for miners and the mining industry. It is the result of intensive efforts by MSHA and its stakeholders that have led to mine site compliance improvements, a reduction of chronic violators, historic low levels of respirable coal dust and silica, and a record low number of mining deaths," said Joe Main, assistant Secretary of Labor for Mine Safety and Health.
In other words, expect MSHA to continue their recent uptick in enforcement and inspections across the mining industry.
MSHA Fines Down
There is also another surprising piece of information in the article that could potentially be overlooked. The amount of MSHA fines is trending down. MSHA doesn't count contested fines in these statistics which leads to artificially low numbers (MSHA reported $62.3 million collected for 2015, a giant drop from the $95 million average in 2013 and 2014.) So as cases wrap up, the total for 2015 will increase. But even if we throw out the artificially low 2015 numbers, the trend is still there. Even with this drop, MSHA inspectors still have a few tricks they like to try.
The most MSHA fines collected in a year occurred in 2010 with $162.8 million dollars. But since 2012, the trend has been decidedly downward.
This is good news for an industry that has had a very hard year. Safer mines and fewer fines? That's something the mining industry and MSHA can both get behind.
Let's work towards continuing both trends in 2016.

MSHA Safety Hazard Alert
Late yesterday afternoon Neal Merrifield distributed yet another MSHA Safety Hazard Alert. He begins:
Since 2008, six persons have died at metal and nonmetal mines in accidents involving large diameter plastic pipe.  Two delivery truck drivers were killed while their flatbed trucks were being unloaded at the mine.  In both cases, an unsecured section of pipe rolled from atop the truck's load of pipe, fell and struck the driver as he stood nearby.  Two pipe crew supervisors, one a contractor, died while connecting sections of pipe using excavators and lifting straps to support and position the pipes.  One died when the pipe slipped out of the strap and struck him; the other was killed when the pipe sprung out of the positioning cradle and struck him.  A pipe foreman and a contract laborer were killed when they were struck or crushed by the pipe while assisting excavators re-position long sections of pipe using lifting straps.
Again, MSHA mentions their increased use of walk and talks, however this time without a veiled threat:
MSHA plans again this month to continue walk and talks at mine sites and enlist the assistance of mines, miners and mining industry groups in the effort to raise safety consciousness, stay safety-vigilant 24/7 and send miners home every day at the end of their shift.
That's a sentiment we can all get behind. Though there were too many tragic deaths last year, 2015 was overall the safest year ever for the mining industry.
The alert also included some practical information.
MSHA standards require that materials not be stacked in a manner that creates a fall-of-material hazard, that taglines be attached to loads that may require guidance or steadying while suspended, and that hitches and that slings used to hoist materials be suitable for the particular material handled. 
Our Recommended Best Practices – Lifting and Handling Plastic Pipes
Here are some best practices for lifting large objects of any kind with a few specific to plastic pipes:
Task train all persons prior to performing work.
Secure loads on trucks, forklifts and cranes.
Establish and discuss safe procedures before beginning work. Identify and control all hazards with the work to be performed along with the methods to properly protect persons.
Ground personnel should be highly visible. Unauthorized persons should be kept clear of the area. Examine work areas during the shift for hazards that may be created as a result of the work being performed.
Verify slings are in good condition and securely attached before beginning a lift.
Stand clear of items of massive weights having the potential of becoming off-balanced while being loaded or unloaded.
Use taglines of sufficient length to adequately protect persons.
Keep pipes as straight as feasible to avoid any spring-like motion.
Evaluate the stability of the material before unfastening a load. Pay particular attention to loads that may have shifted or become unstable during transport.
To prevent pipes from falling when the load is unfastened, secondary supports (such as side stakes) may need to be installed before the load.
Unload materials on level ground and in a safe, controlled manner.
Monitor personnel routinely to determine that safe work procedures are followed.
For more detailed information you can consult this post from North American Pipe Co.
A number of MSHA safety hazard alerts have been issued to open 2016. Now is the perfect time to conduct a thorough examination of your operation and equipment. Ensure everything is MSHA compliant and in working order before operations ramp up in the spring.
Never miss an MSHA enforcement initiative again. Sign up to have MSHA and industry updates sent right to your inbox.

Mine Fatalities – 100 Years of Progress
Mine fatalities in the U.S. have dropped precipitously since the first regulatory agency was established in 1910. As 2015 comes to a close let's look back and see the progress in 3 charts. All data comes from MSHA.gov.
The Long View
In 1917, 3,679 men left for work never to return home. The average number of mining fatalities from 2011 to 2015 was 38. While 1 life lost is 1 too many, we must acknowledge the astounding progress in mine safety. Fatalities have decreased nearly 10,000% in less than 100 years.
The sheer number of mine fatalities in the early 20th century is staggering. On average 2866 mining deaths occurred every year between 1915 and 1930, nearly 8 each day. 8 families losing a father, son, or brother every day. That's unimaginable now.
Mine Fatalities After the Mine Act
The Federal Mine Safety and Health Act, or Mine Act, was passed in late 1977. This large and important piece of legislation brought all U.S. mines under federal jurisdiction and implemented a significant number of safety regulations. The Mine Act has far-reaching ramifications throughout the U.S. mining industry.
Significant provisions include:
Annual inspections of all surface mine
All underground mines are required to have mine rescue teams
Let's take a look at mine fatalities in the decades since the Mine Act was enacted:
A substantial effect is apparent. Since the Mine Act's passage, deaths have significantly decreased. Mine fatalities dropped by 53% from the decade before the Mine Act was passed to the decade after.
Before the Mine Act:
Average of 356 mine fatalities per year between 1967 and 1976
After the Mine Act:
Average of 189 mine fatalities per year between 1978 and 1987
Progress Since 2000
Finally, let's look at the beginning of the 21st century.
Another significant drop. Mine fatalities have gone down 63% from the first half of the century to the second. From 85 deaths in 2000 to 45 in 2014 and 25 in 2015.
Substantial progress has been made, but even one death is too many. Mine operators and employees will continue to work towards that goal.