Tell MSHA To Delay Their New Workplace Exam Rule
Updated on April 25, 2017 by Sales Team
---
Tomorrow (April 25th) is the last day to let MSHA know that you want their disastrous new workplace exam rule delayed.
You can submit your comment right here.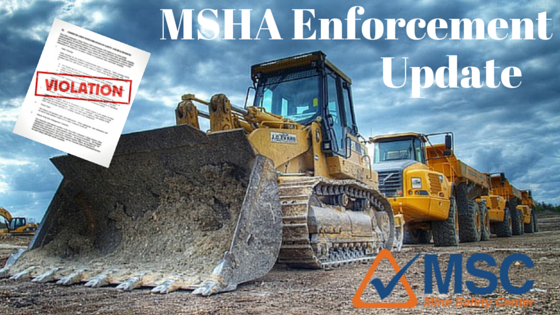 MSHA has been seeking comments on its proposal to delay the effective date of the metal/non-metal workplace exam rule "to provide stakeholders training and compliance assistance."
As Mine Industry Attorney (and friend of MSC) Willa Perlmutter puts it:
"It's an odd basis for saying they want to extend the rule, since the need for stakeholder training and compliance assistance was surely contemplated when the final rule was published back in January. This leads me to think that MSHA is considering whether to pull (or at least, to radically amend) the rule altogether."
MSHA Seeking Industry Comment
MSHA is looking for comments on whether or not to continue to delay a controversial workplace exams rule. NSSGA urges member companies to send comments on the rule to MSHA before the April 26 deadline.
We discussed the new workplace exam rule in detail before it was passed (and after). Now MSHA is seeking comments on whether or not to delay the rule further.
MSHA proposes to delay the effective date until July 24. Comments on MSHA's proposal to delay the rule are due by this Wednesday, April 26.
The NSSGA has come out against the new workplace exam rule and "suggests that members use the following points in their comments:
The status of the rule is not clear. MSHA indicated that there was a "pause" in the rule so that the rule could be reviewed at a policy level, but that review is not yet complete. The Trump administration has also yet to appoint an Assistant Secretary to administer MSHA.

Once the rule is in effect, aggregates operations will require compliance assistance from MSHA.

The rule is still vague on what constitutes a working place, conditions that may adversely affect safety and prompt notification.

The rule should be delayed indefinitely until it's status is finalized.
Comments should refer to rule RIN 1219-AB87. You can also email your comment to zzMSHA-comments@dol.gov or mail comment to: MSHA Office of Standards and Regulations, 201 12th Street South, Suite 4E401, Arlington, VA, 22202-5452.
This law will not improve worker safety. It will only lead to more citations. Contact MSHA with your thoughts now.